What to know about Applying for a Hearing Dog
Due to our extensive wait list, IHDI is not accepting new applications to ensure our team can focus on serving those currently waiting for a life-changing hearing dog. As we aren't currently accepting new applications, please check out other service dog programs and trainers who may be able to assist you. Check out Assistance Dogs International for a listing of programs.
IHDI's applicants are some of the 48 million Americans who are d/Deaf or hard of hearing, across all demographics. Hearing loss impacts all areas of an individual's life - from daily living to education to employment to personal relationships. A hearing dog that alerts to important sounds allows d/Deaf or hard of hearing individuals gain greater independence, enjoy increased peace of mind regarding their safety, and benefit from the power of the human-animal bond they share with their dog.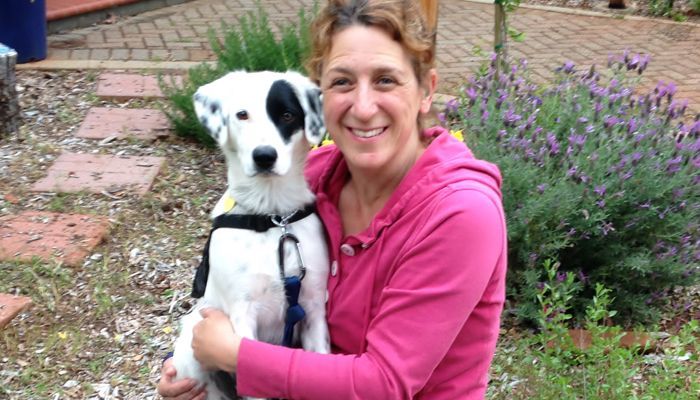 Applicant Criteria
IHDI's service is available to all adults who meet the minimum criteria for a hearing dog, regardless of race, religion, national origin, ethnicity, gender identity, disability, or sexual orientation. These criteria include:
Adults age of 18 or older
 
d/Deaf or have bilateral and profound hearing loss (unaided)
 
Live alone, with dependents, or with others who are d/Deaf or have bilateral and profound hearing loss (unaided)
 
Do not have another dog in the home
 
Are able to complete online and onsite at IHDI training classes (8-10 days at IHDI)
 
Are mentally, financially, and physically able to provide a hearing dog's care, exercise, and ongoing training for many years
 
Are committed to ongoing daily training with their dog throughout the dog's working life and able to have their dog with them nearly always (advance approval from employer is required)
Expectations
At IHDI, we are committed to reaching the people who would most benefit from our services. We understand that members of our d/Deaf and hard of hearing communities face challenges in everyday living. Yet, we want to emphasize that our Application Process is thorough and will take several months.
The Application Process entails the following:
Completion and submission of the application packet by the applicant
 
A comprehensive review of the application by IHDI
 
If determined that IHDI is an appropriate option for the applicant, IHDI will request critical supporting documentation. Please note that how long it takes the applicant to return that documentation to IHDI will significantly impact the length of the application period.
 
If the application with supporting documentation is approved, the applicant will be added to the IHDI waitlist
Please realize that it is, at minimum, a two-and-a-half (2.5) year wait period for an IHDI dog. Therefore, we encourage anyone considering to apply for a hearing dog to evaluate carefully if such a wait period makes sense. We also strongly encourage applicants to apply to other service dog organizations or, depending upon goals, consider adopting a dog.
Before completing this application, please pause and critically consider if, as an applicant, you are at the point in your life to devote the time, energy, and resources required to become the person in a successful hearing dog team. Having a hearing dog is a serious, long-term commitment and entails significant responsibilities. Additionally, a hearing dog is not an intervention that is fitting for all d/Deaf or hard of hearing individuals.
It is imperative to understand that a service dog is, first and foremost, a dog. They need attention, care, food, ongoing training, grooming, oral care, exercise, playtime, enrichment, veterinary care. And, like all dogs, they will incur expenses – sometimes extensive costs. Further, if an applicant becomes a client and is partnered with an IHDI dog, it means that you have become one half of a two-member team, and suddenly, wherever you go, whatever you do, the dog team member must accompany you. Many individuals find that level of involvement is stifling and constraining. Finally, when accepting an IHDI dog, you commit to providing them a safe, secure, and loving forever home, continuing their ongoing training, and upholding IHDI's standards.
Team Training Requirement
IHDI works hard to evaluate applicants based on their needs and circumstances. After applicants are accepted as clients, we match them with dogs that best suit their needs and requirements. Each dog receives extensive public access training as well as being custom-trained to work for sounds critical to the clients. Each client is required to complete online classes and travel, at their own expense, to IHDI for 8-10 days of Team Training.