Client Focused Training
Clients receive ongoing training sessions and support as part of IHDI's mission-driven work and commitment to our clients and dogs. The training and support consist of online pre-training and testing, onsite hands-on training, and follow-up training throughout the entire process and for the life of the match. We are committed to our intensive and comprehensive training model because we recognize through experience that it is critical to the success of our teams in all environments - home, work, school, and in public. Our pledge for ongoing training and support helps ensure our hearing dog teams remain effective and successful through the life of the match.
Pre Match Training
IHDI works closely with each client to assess and understand the client's daily lifestyle, home/work/school situation(s), health, activity level, and other factors. This personalized information is incorporated into custom training to accommodate specific needs to ensure each client is matched with a hearing dog that optimally enhances their quality of life and independence. Additionally, IHDI staff educates clients via client preparation modules on their hearing dog's roles and expectations and addresses other competencies for being paired with a hearing dog.
Client-Dog Matching
The dog matching process begins shortly after IHDI has developed a comprehensive knowledge of the client and the client's needs. Our goal is to make the strongest possible match. For each client, many factors are considered when evaluating a possible client-dog match.  
Custom Training
Once matched, trainers begin incorporating the custom training required to accommodate any specific needs identified in the application and pre-match training. Sometimes, as we move through the training with the dog it becomes apparent that a matched dog is not able to meet the customized training standards. If the matched dog is unable to meet the training standards or any specialized training, the client will be matched with another compatible IHDI dog as soon as possible.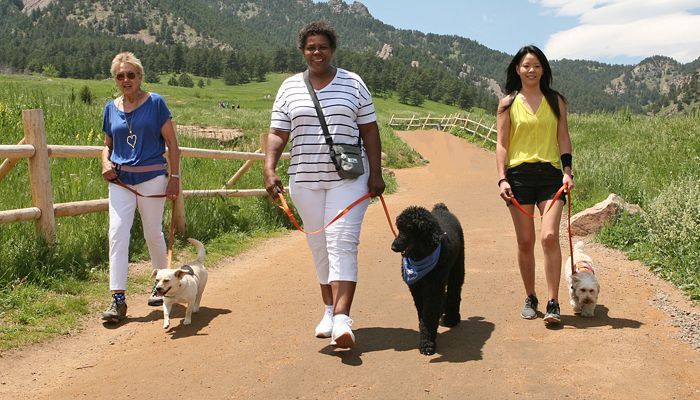 Team Training
IHDI utilizes an 8 to 10-day Team Training onsite at IHDI's training facility with hearing dogs in training and clients with the preset objective to pass the Public Access and Sound Alert Tests. The training includes accelerated classroom instruction, hands-on experiential learning, and cumulates with a graduation ceremony. The client and hearing dogs in training must learn to work together to achieve success. To facilitate a positive and strong connection, the Team Training has three concentrations.
Classroom Instruction: Clients learn cues, training techniques, training theory and participate in the execution of short training exercises to create a foundation for honing skills and a solid connection.  
 
Environmental Learning: Challenge-based field trips take the training beyond cues and sound alerts and introduce the team to public work scenarios.
 
Graduation: Passing the Sound Alert Certification Test and the Public Access Test solidifies the establishment of a certified Hearing Dog Team and marks the beginning of their life-changing journey together.
Graduating as a Certified Hearing Dog Team and awarding legal access to all public areas guaranteed by Federal law is provisional for the first year.