It's a Pet Party!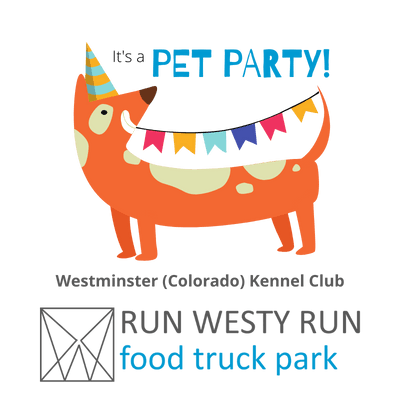 Run Westy Run Presents: Westminster (Colorado) Kennel Club It's a Pet Party
Join IHDI at Run Westy Run on Friday, September 16th @ 5:00 PM
Bring your dogs, cats, and celebrate all things pets at the Westminster (colorado) Kennel Club. It's a Pet Party that features pet-focused vendors who make special dog and cat treat, gear for outdoor adventures with your dogs, and other sundry pet items.
Run Westy Run is happy to be hosting a IHDI. Please come out and learn more about the work we do.
The event starts at 5:00 pm, so come get a beer, get some food from the food trucks, hang out on the patio, and revel in a world dominated by pets. Here are some of the dog and pet groups that will be there: Bone Apetreat!, CutieTood Bandanas, Grizzly Peak, and Wilder Dog.
The Run Westy Food Truck Park builds community through food, drinks, music, art and events such as this! Run Westy Run is located at 3151 W 70th Ave, Westminster, CO, 80030.