IHDI works hard to identify applicants based on their needs and circumstances. After applicants have been identified, we match the applicant with the dog that best suits his or her needs and requirements. Each dog is then custom-trained to work for the sounds the applicant requests.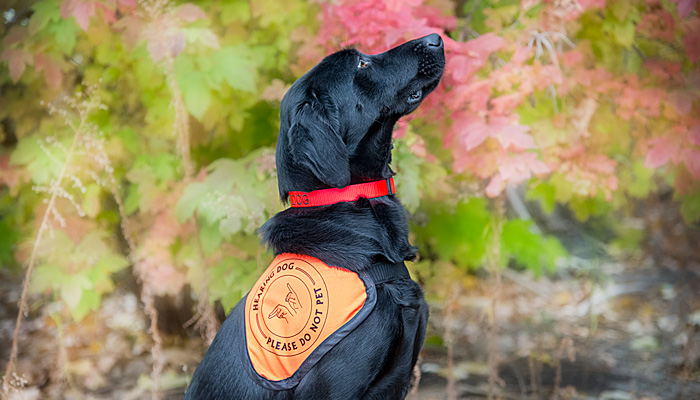 Hearing Dog Program Eligibility
Priority Hearing Dog candidates are adults over age 18 who:
Have at least a 65 decibel hearing loss (unaided)
Live alone or with other persons who are deaf or hard of hearing (IHDI will consider applicants who live with one hearing person)
Do not have another dog in the home
Are physically able and willing to care for and continue the training of a hearing dog.
Application Materials
We require the following items to help determine eligibility:
A copy of the applicant's most recent hearing test
A photo of the applicant
A general (blueprint-like) drawing or pictures of the residence the Hearing Dog will reside
We will contact you within 5 business days once you have answered a few preliminary questions. Individuals are encouraged to apply even if they do not feel like they meet the exact outlined criteria.
                IHDI DOES NOT CHARGE A FEE TO APPLY FOR A HEARING DOG
Apply By Phone
You can also apply for a Hearing Dog by calling 303-287-3277. Please be prepared to answer the following questions.
Are you planning on moving to another residence within the next year?
Are there other people living with you? If yes, are they hearing? And how many? If not, are you planning on moving in with a hearing person in the future? If so, when, and how many?
If you live with hearing people, are they supportive of you getting a Hearing Dog?
Do you have pets? If yes, how many and what kind of pet?
Are you currently employed? If so, what kind of job is it? Are you planning to change jobs in the next year? If so, what kind of job will you have?

Describe your work environment.
Is your boss aware that you will bring a Hearing Dog to work?
Will you be able to take time off from your job to work with a trainer when your dog is delivered?

Do you go to school? If so, what is your class schedule?

Will the dog be going with you to your classes, some classes, or stay at home?
Does your school approve of Hearing Dogs?
Will you be able to get time off from school during the time the trainer places the dog with you?

Do you have any health problems that might make it difficult for you to work with a Hearing Dog if you're not feeling well? If yes, please explain.
Are you using a cane, walker or wheelchair?
Please list other comments, concerns, or questions you may have.
Companion Therapy and Emotional Support Dogs
IHDI also selects and trains Companion Therapy Dogs as well as Emotional-Support dogs to help Veterans with PTSD.
A Companion Therapy Dog is an assistance dog for hearing impaired people who:
do not have 65 decibel or greater hearing loss
live alone
do not have a significant need for a Hearing Dog.
In addition to Companion Therapy and Emotional Support Dogs, we also help place dogs for other special circumstances.
Contact us to find out if a Companion Therapy Dog or an Emotional Support Dog is right for you or someone you love.