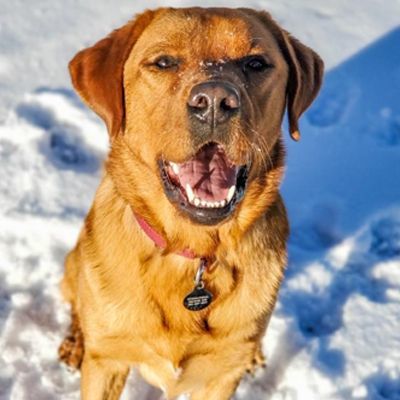 Please meet Umber! Umber is a red Labrador Retriever who is almost three years old. Umber is silly, playful, loving, curious and loves to cuddle up with his two-legged and four legged Besties! Although a happy, high-spirited pup, Umber has very good manners and responds well to his long list of behavior cues. This Sweet Boy has worked so hard to learn to be a hearing service dog, and he has masterfully developed strong sound alert skills!! Umber was matched with his deaf partner and they were scheduled to begin Team Training the 2nd week of June. Sadly, at his final vet examination – a routine step all service dogs in training must complete just prior to placement - the vet found a tiny lump. It was aspirated and, sadly, it came back Mast Cell Tumor.
Umber has now had surgery to remove three Mast Cell tumors and is undergoing chemo. At International Hearing Dog, when we decide to bring a dog into our training program, we have decided to bring them into our family as well. Commitment to the Dog is one of our Core Values. At IHDI our dogs are the heart of our program. They do not only provide the service of alerting that is critical to our recipients' safety and independence, they provide the unconditional acceptance and bond with our clients that often becomes a motivating catalyst for every area of our clients' lives. Our dogs provide a priceless and challenging service; consequently, we are fully and deeply committed to providing them with the optimum of care and treating them with dignity and respect in all phases of their lives. Consequently… we are Fighting for Umber!
Umber is up against Cancer, but with his dedicated team at Boulder Road Veterinary Specialists and the support of the International Hearing Dog community, we have high hopes for our remarkable, fun loving boy! All funds raised through Umber's Fighter Fund will do just that--fund Umber's fight. Umber's treatment protocol is IV and oral chemo administered at the oncologist's every other week. This protocol will last four months and will require weekly clinic visits and daily medication along with thorough daily examinations by staff. From blood work, to surgery, chemo, antibiotics, check ups, medication, re-checks, and testing; Umber's medical bills will surpass $10,000. IHDI is a small nonprofit and this is a devastating and unexpected financial hurdle for us. However, it is a hurdle we did not hesitate to tackle!
Umber was dealt an unfortunate hand, BUT Umber is fighting this cancer with gusto! And as long as Umber's tail is wagging and he continues to love life to the fullest in his light-hearted, "Goofy Boy Umber" way, all of us at IHDI will continue to fight for him. Please, join us in Umber's Fight as well.
On behalf of our entire team, we sincerely thank you for assisting in supporting Umber's Fight to beat this cancer!