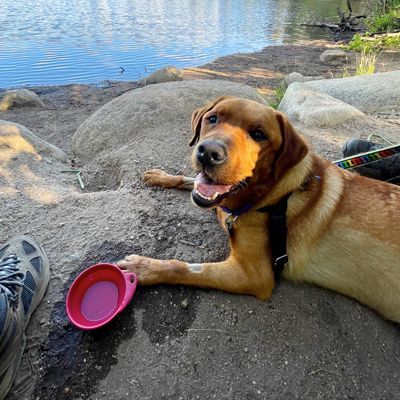 Umber is one amazing dog! Despite the fact that he is undergoing Chemo and needs to be on a long list of medications to help support his treatments, Umber is still living his best life possible!

He is living with a foster who, like anyone who meets Umber, LOVES! LOVES! LOVES him! Every day Umber has romps in the yard with his Foster Brother and Sister, short walks on the trails, cooling swims in the nearby lake and endless cuddle time! He gets to go to work everyday with his foster and, since he is such a "people dog", that makes Umber especially happy! He has an ever growing fan club and he likes nothing more than to have lots of people visits!

Midmonth, Umber had his chemo treatment and we finally received some promising news - Umber had no new masses and his previous tumors has all shrunk and flattened out! This was all a very good sign that Umber's oncologist was extremely please by! We are keeping our fingers crossed that the perfect chemo combination may have finally been found! Umber will return in two weeks for his next round of chemo and we remain hopeful that our next update will have continued good news!

In addition, Umber had his own personal Guardian Angel step up as a private Donor to support his fight & thanks to this generous individuals gift, we have not only met but surpassed our original goal in fundraising for Umber's care. With still a long road ahead, medical expenses will continue to add up as we continue this fight for our sweet boy. Any and all support for Umber is greatly appreciated by the entire Hearing Dog family!

On behalf of our entire team, we sincerely thank you for assisting in supporting Umber's Fight to beat this cancer!