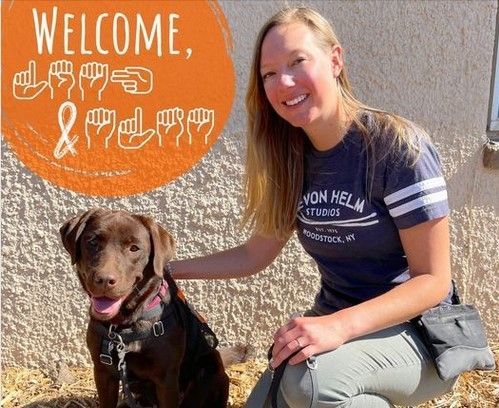 International Hearing Dog has not one but two new faces to introduce you to! Leah, a Hearing Dog Trainer and Alta, a Hearing Dog hopeful who both recently joined the IHDI family!
"Hello! I am thrilled to be joining the Training Team here at IHDI! I am a Colorado native who recently found her way back after a few pit stops in AZ, CA, FL, NY, and most recently TX. I graduated from Colorado State University in 2010 with a Bachelors in Psychology. After some exploration I landed on a track that led me into the Service Dog world. I have over 9 years of experience training Service Dogs for people with mobility challenges, veterans with PTS, children with developmental disabilities, and many others. I learn something new every day in this field and am so grateful to be one of those lucky people that loves their job.
In addition to training I have had experience working in Applicant, Graduate and Puppy Raising Programs. I have personally trained and help establish over 60 service dog teams throughout my career." - Leah
Alta joins the team as a Hearing Dog hopeful from Freedom Service Dogs, a fellow Colorado Service Dog program. Alta was selected for Hearing Dog work based on her confidence, curiosity towards sounds, and high drive to work!