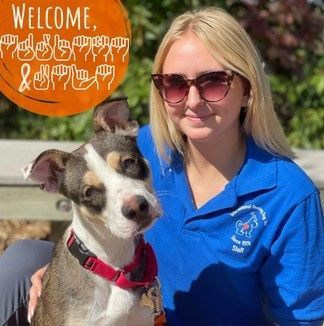 "My name is Adriana & I grew up in Minneapolis, Minnesota. I have a bachelors degree in Animal science from North Dakota State University. During college, I completed a zookeeper internship that turned into a job after graduation where I worked with a variety of animals which involved, completing husbandry, participate in enrichment, and operant conditioning training. I moved out to Colorado in search of adventure and found my place at IHDI. Here I can form strong relationships with the dogs, watch them learn and succeed, and do my part of making sure they're happy and healthy so they can have amazing careers.
Adriana brings a strong passion for enrichment to the IHDI care team. The purpose of enrichment is to provoke a natural innate behavior. Enrichment can be as simple as smelling a scent for the first time or trying a new food or it can be as advanced as solving a puzzle. It satisfies the animal both physically and mentally. Enrichment decreases any stress while promoting confidence as the animal participates in decision making. This is especially important in working dogs as they will face situations where confidence and good decision making could be critical.
Adriana is welcomed to the Hearing Dog team along with our newest hopeful, Kaya! This curious lady was transferred to our program from Clear Creek Animal Shelter. During evaluation, Kaya was very engaging with the trainers. Her wiggly little body showed them that she was happy to be with us and looking to please. Most importantly, when trainers set off sounds she went up to and investigated every single one with curiosity and confidence!