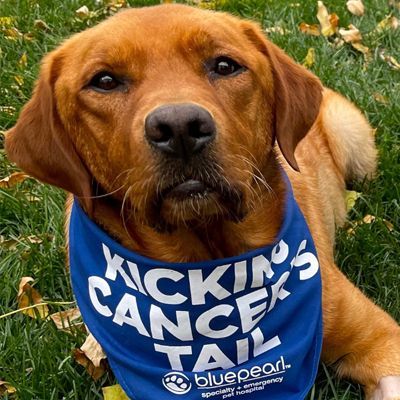 Umber and the entire team at Hearing Dog send our most sincere & heartfelt thanks to every single person who has supported, followed, cared and kept our sweet Umber in their hearts throughout his fight!
Today, we are able to share the news that we have hoped long and hard for -- Umber beat cancer's tail! This incredible feat could not have been made possible without the village who backed our sweet boy's fight - from his dedicated doctors, to the generous supporters, the numerous fosters who opened their heart and home to him, and every single person who invested in this journey. Umber beat cancer thanks to YOU!
Our "hungry hungry hippo" Umber gets to continue to enjoy nature-filled hikes, his favorite delicious peanut butter filled Kongs, snuggly evenings on the couch and playtime with his best friends... all because his fight mattered to each of you!
When you enter the Hearing Dog program, you enter the Hearing Dog family and that dedication to family is passed on to every four legged being we encounter. Congratulations Umber - we are so incredibly proud of you!