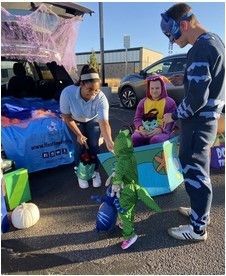 International Hearing Dog's Director of People & Community, Heather, along with IHDI's current University of Denver intern, Callie, attended Rocky Mountain Deaf Schools Trunk or Treat leading up to Halloween. Can you guess what our trunk treat is? Scooby snacks of course!
Callie is currently pursing her Masters in Social Work, studying the importance of human animal interactions. During her time at Hearing Dog she will be connecting with rescues all across Colorado to educate about International Hearing Dog's mission and the important aspect these rescues serve in allowing IHDI to both assist in rescuing a dog in need but also give the gift of a hearing dog to others.
"What drew me to Hearing Dog was the ability to do impactful work for an underserved community while also getting to advocate for dogs."