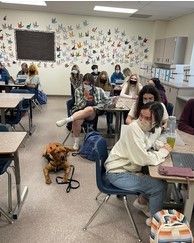 Grab your books, we are going back to school!
Thank you to the students of Legacy High School & Mrs. Bax for welcoming IHDI into their classrooms! Mrs. Bax teaches American Sign Language; Levels I, II, III at Legacy & continues to build the Hearing Dog program into every year's curriculum.
Throughout these courses and classes, students gain and promote a better awareness of, and sensitivity to, the deaf and hard of hearing community. This class encourages students to develop a strong appreciation for deaf culture, and learn   how they can promote understanding and acceptance of ASL among others.