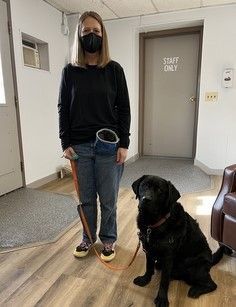 Finding every dog's perfect place in the world is an ambition of the Hearing Dog team!
What is a "career change" dog? Well, not every dog in the Hearing Dog program will complete our training program to become a fully trained Hearing service dog. It takes a particular dog with the right balance of temperament, trainability, and desire to work to develop into a successful Hearing Service Dog.  Those that would excel at a different path are career changed and transferred to a different type or work, like Brizo! Brizo excelled in public, thrived through his drive to please & was always looking for how to best support his handler, but due to minor allergic flare ups he was career changed. With a change in career paths we are pleased to announce the partnership of Brizo and Cindy, who is a Professional Counselor in private practice. Through his work as a Professional Therapeutic Support Dog, Brizo will be able to magnify his strengths through providing support, deep pressure therapy and overall comfort to the patients he will see.  
Go change the world, Brizo & Cindy!