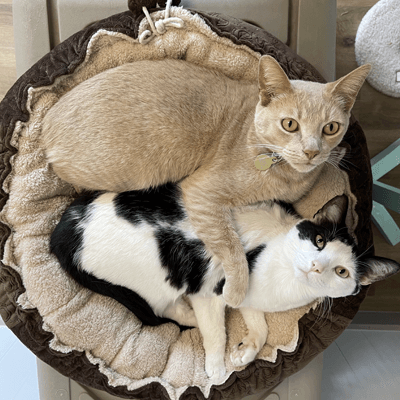 Do you know about the role small animals play in training a Service Dog? At IHDI, you won't find just dogs on campus! IHDI has two resident rescue cats, Buddy & Mulan, who help prepare dogs in training for what they may encounter when they're out working.
Some Hearing Dog clients have cats in their home or neighborhood, and IHDI trainers want to feel confident sending a dog home that won't harass cats or be too distracted by them to assist their person. You can often find this mischievous duo strolling through the middle of training class, or joining in on a down stay, snuggling up to the focused trainee. Buddy & Mulan also provide emotional and comedic relief for all the staff at IHDI—you'll often find the pair lounging in staff offices or joining in over lunch hour, looking for a treat!
Buddy and Mulan are key members of the dog training team at IHDI and have a job that isn't fit for just any feline.  These kitties are resilient, crafty, brave, and most importantly, comfortable with dogs of all kinds.  Some dogs begin their Hearing Dog training and may have never seen a cat before, they may be excited, overly eager to greet, or try to play too roughly.  With repeated, controlled exposure, many dogs can learn to behave appropriately around the cats, and Buddy and Mulan are always happy to let them try again.  It's not all work all day of course; the staff at IHDI are just as devoted to enriching the lives of Buddy and Mulan as the dogs in training.  Throughout their large space you'll find cat trees, lick mats, kitty Kongs, catnip, flirt poles, ball towers, a hands-free kitty snuggle sack, and other cat-specific necessities.  This equipment can also be used when dogs in training are working on their "leave it" cues!
It's important that assistance dogs behave appropriately around animals they may be exposed to while working for their client. Some clients have pet cats, rodents, or birds; other clients may live in an area where wildlife and farm animals are abundant. Service dogs need to stay calm and focused not only so they're able to help their people regardless of distractions, but because an assistance dog pulling on leash to chase a cat could spell disaster for their person! 
Ultimately, there are many factors that are involved to ensure a Hearing Dog is a good fit for their client and the team is successful. Evaluating, selecting appropriate dogs, and then training those dogs to work around small animals is one way that Service Dog organizations work to set the dog and their handler up for success! Thank you, Buddy & Mulan for your "service" & the joy you bring!