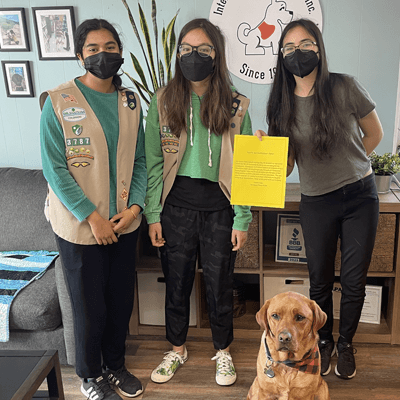 Each year, Girl Scout Troops across the nation select their "Home Town Hero" – a local non-profit that the Troop chooses to celebrate and recognize for the organization's work in their community. This year, Local Girl Scout Troop 63787 chose International Hearing Dog to be their HomeTown Hero.
Earlier this month members of Troop 63787 visited IHDI and presented us with their HomeTown Hero Award, sharing:
"You're our Hometown Hero! We chose International Hearing Dog because we wanted to thank you for all the wonderful things you are doing for our community. Keep up the good work you're doing! THANK YOU!"
They also brought us boxes of Girl Scouts to help us celebrate!!! And which we are sharing with our phenomenal volunteers.
Thank You Troop 63787 for honoring International Hearing Dog!