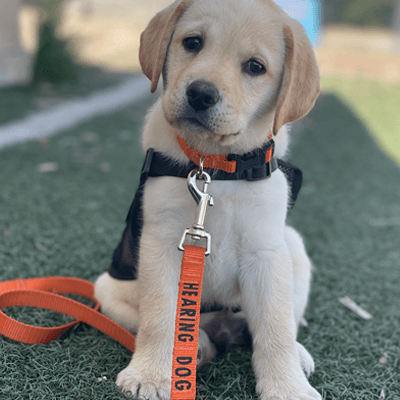 Spring is always a time of new beginnings and possibilities, yet this Spring is especially filled with promise and delight for us at IHDI. As our world begins to blossom and bud, springtime brings PUPPIES to IHDI!
IHDI has provided life-changing services to the d/Deaf and hard of hearing community for over 40 years. During that time, IHDI has worked with many shelter and rescue dog organizations to source our dogs and we have been honored to play an important role in the rescuing and re-homing of at-risk dogs. While we deeply value and respect the vital services that dog shelter and rescue organizations provide, IHDI's driving mission is to serve individuals who are d/Deaf and hard of hearing. Therefore, we believe it is critical to continually evaluate our work and ensure we strive for best practices in all areas of our programming.
As we assessed the lasting effects of our operations, we had to take a critical look at the practice of solely sourcing at-risk dogs as candidate hearing dogs. The graduation rate of dogs who completed training and successfully matched for our shelter and rescue dogs was well below 20%. While this is a bit higher than the service dog industry estimate of around 13% success rate for a shelter or rescue dog's effective transition to and long-term success as a service dog, we noted that our graduation rate for specially bred dogs fell at the other end of the spectrum at over 70%! In comparing success rates, it was evident that we could increase our success and transform the lives of more d/Deaf or hard of hearing individuals by focusing on specially bred dogs with specific temperaments and excellent health. Consequently, in the spirit of and commitment to excellence, our specially bred Puppy Raising Program evolved.
IHDI's Puppy Raising Program has two tracks…Prison Puppy Raisers and our Community Based Puppy Raisers.
IHDI is honored to introduce PAWS'abilities (Preparing Animals With Service abilities), our Prison Puppy Raiser track built upon a strategic partnership between IHDI and the Wyoming Department of Correction (WDOC) Canine Training Program at the Wyoming Medium Correctional Institute in Torrington.
At about two months old, our pups transition to living with and being trained by Master Inmate Handlers until they are about a year old. During this time, dedicated Master Handlers provide their service pups in training with love, guidance, and training. Supporting the pups in each stage of their development, working on socialization, good manners, obedience cues, and beginning sound alert training, the Master Handlers play a critical role in the successful development of our hearing service pups. Visit our PAWS'abilities page to learn more.
Because an IHDI service dog will be required to accompany their d/Deaf person in every setting (home, work, school, and in public) once matched, it is crucial for the pups to experience and become comfortable in the world at large as they are growing up. This is where Weekend Puppy Raisers (WPRs) come in! WPRs open their homes to one of our PAWS'abilities service pups in training on the weekends. WPRs work on house manners and socialization and take the puppies on around town, introducing them to sights, sounds, and experiences not available within a prison setting, all the while supporting the training of the Master Handlers. Visit our Weekend Puppy Raiser page to learn more.
Community Based Puppy Raisers (CBPR) are dedicated volunteers from within our community who take our service pups in training into their homes and look after them for 12 to 16 months. CBPRs maximize the pup's potential of successfully entering advanced training by teaching a puppy the fundamentals of basic manners and housebreaking, exposing the puppy to positive interactions, and providing a loving and enriching home. Being a CBPR is a long and challenging commitment, but the reward of giving an individual who is d/Deaf their independence, confidence, and life back with a service dog that you raised is priceless. Visit our Community Based Puppy Raiser page to learn more.
We are so GRATEFUL to everyone who has helped us and lent their expertise as we have worked hard to develop our Puppy Raising Program. We are thrilled by the promise the future holds and energized by the possibilities Puppy Raising provides IHDI. We invite you to join our exciting journey…as a Puppy Raiser or as an IHDI supporter cheering us on.
Stay tuned to all things IHDI in our newsletters and on our social media (Facebook and Instagram) to watch as our first class of puppies grow, learn, and explore the world!