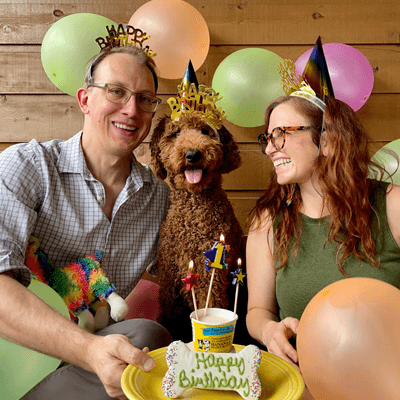 Hearing Dog Phoenix had only one wish for his birthday this year. For more Community Based Puppy Raisers (CBPR) to open their homes and their hearts to teach a puppy the fundamentals of basic manners and housebreaking, expose the puppy to positive interactions and give them a loving and enriching home during their formative puppyhood.
Becoming a CBPR is an excellent opportunity to give back to your community in a unique way, learn more about training dogs and experience the truly rewarding partnership between dog and handler. While there are many gratifying outcomes to being a CBPR, the greatest is giving the gift of a hearing service dog to a person who is d/Deaf or hard of hearing so they can lead a more fulfilling, independent life for years to come. Plus, you'll get to enjoy moments and memories like Stephanie & Warren did with Hearing Dog Phoenix. Thank you, Stephanie & Warren, for everything you have provided Phoenix, IHDI & his future handler!
Help Phoenix's wish come true! If you are willing to learn, teach, and open your home and heart to unleash a puppy's potential to become a life-changing service hearing dog, becoming a CBPR is the perfect volunteer experience for you!