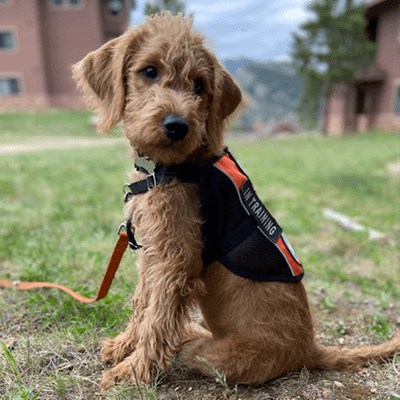 This past weekend, Service Pup-in-Training, Archie, and Heather, IHDI's Director of People and Community, took a trip to the mountains to attend The Listen Foundation - Cochlear Implant Family Camp in beautiful Estes Park!
Cochlear Implant Camp creates wonderful opportunities for families to share the success of children from ages 3-18 years old who use cochlear implants. The camp offers a wide range of activities, including parent education, family team building, nature walks, archery, axe throwing, campfires, animal activities, and much more.
Archie and Heather were able to witness and take part in the camp's goals of sharing experiences, making connections, and building community. In addition, the day offered varied training opportunities for Archie, from traveling to the event to quietly "meeting" campers at a distance, from settling during take down of the booth to taking in the hustle and bustle of a busy event center. Way to go, Archie, and a special thank you to The Listen Foundation for hosting IHDI!