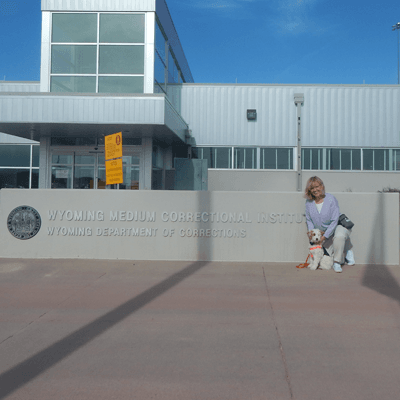 Welcome, Augie!
Augie is a 4-month-old Goldendoodle and the first member of PAWS'abilities (Partnering Animals with Service Abilities), our Prison Puppy Raiser Program in partnership with the Wyoming Department of Correction (WDOC) Canine Training Program. 
Augie was selected as a Hearing Dog Puppy in Training as our trainers were drawn to his desire to interact with them, eagerness to investigate new sounds, quick problem solver, as well as being an all around brave and smart little guy!
You may ask, what is prison life like for a puppy? For the most part, our pups can be found experiencing daily life at the side of their Master Handler – going to classes, visiting recreation spaces, attending group training, and occupying common areas. Even at night, the pup remains close, sleeping in a crate in the Master Handler's room.
Who are Master Handlers? Master Handlers take the lead with puppies around eight weeks old. Socialization is critical for our pups. Master Handlers provide puppies with consistency and support them in a variety of socialization and novel experiences by bringing a pup with them throughout their day. They live with, guide, and train the puppies daily in early learning and provide positive experiences to build confidence, and learn manners. Over 10 to 12 months, as the pups grow and develop, the Master Handlers expose them to more challenging situations, extend their socialization, train the pups to increasingly challenging cues, and begin sound alert training. To become a Master Handler for one of IHDI's pups, an inmate must meet rigorous criteria.
1. Be actively involved in the prisons canine training program for at least two years.
2. Have assumed the role of Master Handler within that program (i.e., providing training of new inmate handlers).
3. Meet specific criteria in their behavioral history criteria.
4. Be willing and able to make a 12-to-15-month commitment.