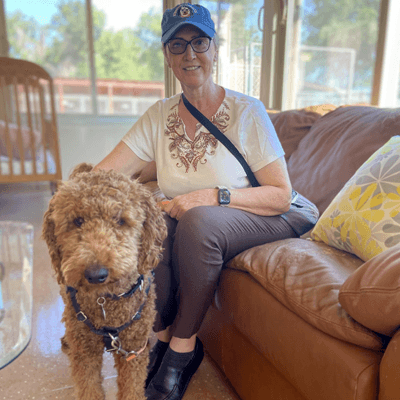 Janice and Phoenix are the first IHDI pairing to embark under our Partner Trained model. In this model, IHDI trainers work two to four times a week in person to support the team as they work over several months on obedience training and sound alerts. Janice lives close to IHDI and was eager to participate in the Partner Trained program, "I want to do all that I can to succeed in this model!" Janice had waited over four years for her just-right hearing dog match. "Now that Phoenix is here, I feel a shift in grieving my last IHDI Hearing Dog, sweet Karma. I will feel safer at home again, knowing Phoenix will be by my side." Upon arriving at Janice's home, Phoenix was immediately thrilled to romp in the backyard of his forever home, surrounded by Janice's lush vegetable gardens and beautiful flowers.
You may recognize Phoenix, featured in our July newsletter with our superstar puppy raisers, Stephanie and Warren. At 13 months, the time was right for Phoenix to move from his puppy-raising home into the Partner Trained model with Janice. Along with a beautiful puppy book made for Janice by Stephanie and Warren were their lovely notes, including these touching sentiments that brought Janice to tears, "Phoenix generally has a playful and inquisitive personality. He loves people and is especially gentle and kind with children and seniors. He also enjoys snuggling, and we will often lay with him on the floor and join him in a cuddle-puddle. It has been such an honor to share our home with him and support him on his journey. We send you our blessings, as you welcome Phoenix home."
IHDI has been blessed to have received Phoenix as a very young pup whose family couldn't keep him. Phoenix settled into living with incredible puppy raisers Stephanie and Warren before finding his forever home with long-time, committed IHDI client Janice. Janice and Phoenix, all of us at IHDI join Stephanie and Warren in sending our blessings to you in this new life-long partnership.