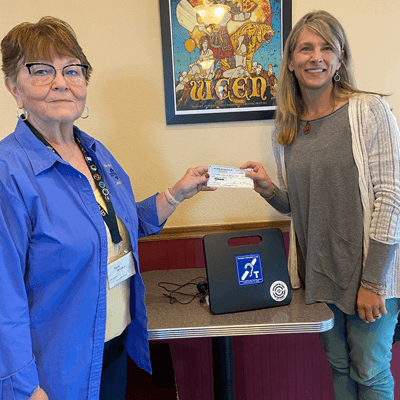 Not only has Dry Creek Sertoma Club been a generous and continued supporter of the Hearing Dog program for many years, but they've also assisted our team in growing our resources for the community we serve!
International Hearing Dog was honored to be the recipient of a Portable InfoLoop, thanks to Dry Creek Sertoma! A Portable InfoLoop amplifies sounds for those wearing hearing aids equipped with telecoils. Looping allows hearing assistive devices to serve as wireless loud speakers, delivering clear, sharp, customized sound right from inside the ears.
InfoLoops can be adapted to use in large public spaces, such as our training arena, airports, auditoriums, and hospitals. Individuals dealing with hearing health issues often face challenges in their day-to-day routines. Many of these challenges are communication barriers during situations like customer service interactions. Self-contained induction loop assistive listening systems, or Portable InfoLoops, can help break down these communication barriers.
Thank you to Dry Creek Sertoma for such a wonderful tool & resource for our team!