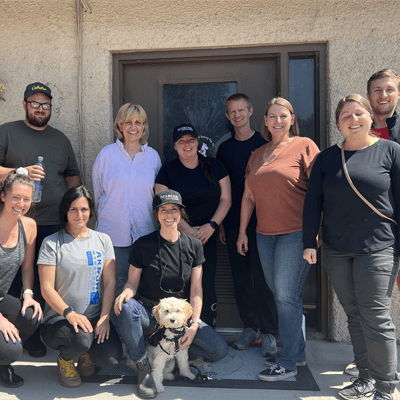 Thank you, Mercer Advisors team, for volunteering at IHDI! The volunteers joined forces with staff at IHDI to build three new forms of equipment -- Paw Pads, Pivot Discs, and Platforms -- to use in our training program!
Paw Pads, also known as Touch Pads are small rectangle training tools used to train a dog to put their two front feet on beside a handler in the heel position. The pad provides the dog a physical and visual target for their feet on which they can practice the commands sit and down, or stand, all while in a heel. This piece of equipment aids dogs in learning impulse control and allows them to be successful in more distracting environments.
Pivot Discs are similar to Paw Pads as a training aid but vary in shape (circular) and incorporate movement. Using a Pivot Disc, a dog stands beside their handler in the heel position and is trained to pivot using their back legs while keeping their front legs in place as their handler moves left or right.  Service dogs need to learn how to use their backend, so this strengthens their body awareness and ability to get into the heel position and remain in it as their handler moves in different directions.
Platforms are large rectangle forms designed so a dog can stand on one with all four feet. Dogs are trained on this equipment to target the platform with all four feet and stand squarely on it. This tool can then be used to teach a variety of different behaviors, including heel, front, stay, and stand, and enables the training of long-distance cues.
Thank you, Mercer! Keep an eye out for future photos and videos of trainees using this new equipment.