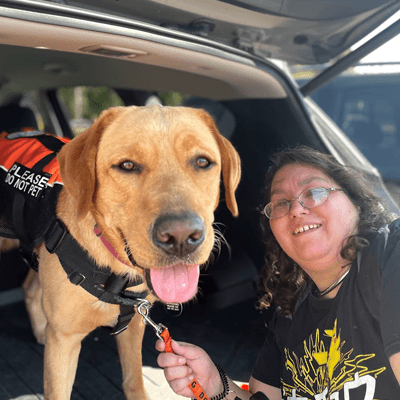 Did you know that IHDI is a fully donor funded organization? IHDI does not receive any government funding or insurance aid to offset the cost of selecting, training, caring for, and matching Hearing Dogs. It is only through your generosity that IHDI can match life-changing Hearing Dogs free of charge with our clients & keep our doors of service open. Together WE are transforming lives and communities.
IHDI thrives ONLY through the generous support of a vast network of supporters – people like you – who are as passionate about "training other ears to hear" as we are. Together, we place hearing dogs across the country, providing safety & independence. IHDI invests about $20,000 per hearing dog - simply put, we can't do this work without your support!
Today, International Day of Charity, we ask that you take action.
"Arite has improved my quality of life and self-confidence. He allows me to be safe and he connects me with other people." - IHDI Client, Sue
How you can help, today!
- Donate a one-time gift today
- Join our Hearing Dog Heroes monthly giving community
- Sign up for an Employee Workplace Giving or Employee Matching Gift Program
- Check out our Giving Guide for more ideas on how to support IHDI