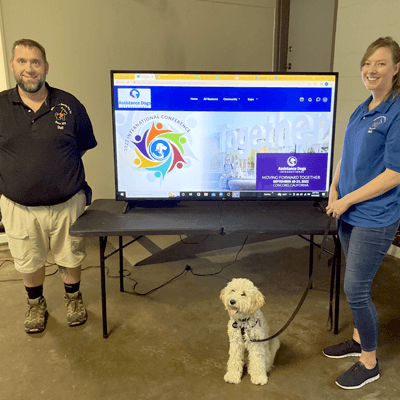 Assistance Dogs International (ADI) is a worldwide coalition of nonprofit organizations that train and place Assistance Dogs with individuals with disabilities to improve their quality of life through great independence.
IHDI was accepted as a Candidate Program to ADI and is currently working toward full accreditation. IHDI believes that meeting the ADI standards will allow us to continue to grow in all aspects of the organization -- meeting the needs of clients, dogs, and community members while being an active advocate and participant in the assistance dog industry.
Formed in 1986, ADI works to:
Establish & promote standards of excellence in all areas of Assistance Dog acquisition, training, and partnership.
Facilitate communication and learning among member programs
Educate the public on the benefits of Assistance Dogs & ADI membership 
Last week, IHDI trainers were able to attend the 2022 Assistance Dogs International Conference - Moving Forward Together, virtually!  Favorite topics from the conference included the Humane Hierarchy and the Puppy Socialization Best Practices. IHDI trainers look forward to integrating the knowledge gained within our program's best practices. Thank you for this continued education opportunity, ADI!