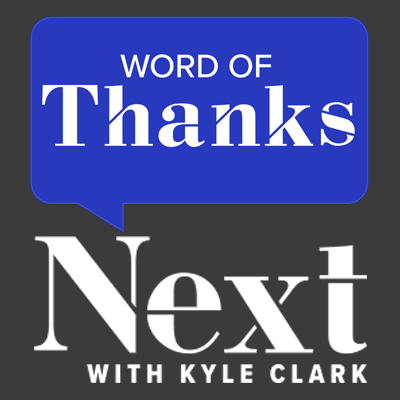 Every week during Next with Kyle Clark of Denver's Channel 9 News, a small non-profit doing crucial work in Colorado is highlighted.  This week IHDI has been chosen for this honor! Tune in tonight (Channel 9 KUSA) at 6:00 pm to see International Hearing Dog's segment during the "Word of Thanks" weekly feature! We are thrilled for the incredible opportunity!!!
Since the launch of Word of Thanks in June 2020, more than $9.6 million have been raised to support worthy local organizations – demonstrating the tremendous power of Micorgiving! Throughout this upcoming week, IHDI will join the list of those empowered nonprofits lifting up their community as we set a goal of raising $30,000 with Word of Thanks: Next with Kyle Clark.
IHDI - the only service dog organization focused solely on training and matching hearing service dogs in the US - continually has a formidable waitlist. Individuals routinely face a three-year wait to be teamed with their dog.
Raising, training, matching, and placing a hearing dog to be on the alert 24 hours a day, 365 days a year, so that a d/Deaf client may enjoy a greater quality of life and training that client to become a skilled handler is a lengthy and involved process. As a result, IHDI invests nearly $20,000 into creating a single successful and enduring hearing dog team.
With a goal of matching 15 hearing dogs in the next year, the Word of Thanks campaign is a powerful force in helping IHDI raise the funds necessary to reach that goal.
PLEASE join the IHDI community in this remarkable opportunity to help raise funds and awareness! And PLEASE help us spread the word by inviting your friends and family to join in on a Word of Thanks!