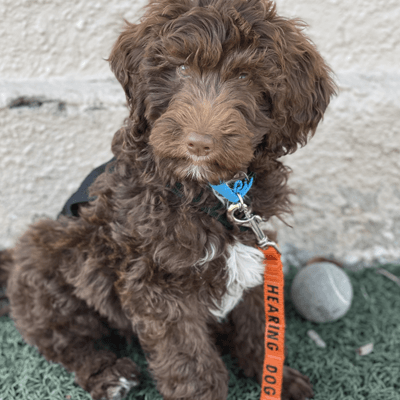 We are delighted to introduce you all to Banjo!!!! This little fellow, a chocolate Goldendoodle pup, is our newest puppy-in-training recruit, and he is terrific! Our team evaluated four puppies and selected Banjo because he was so curious, friendly, and confident. Banjo lit up when he was exposed to sounds - including sirens, a harmonica, and a beeping timer. This little pup excitedly ran over to explore each sound, wagging his tail! Banjo displayed a healthy food drive and followed us around, exhibiting a strong orientation toward people.
Banjo has started his training in our Prison Puppy Raiser Program - PAWS'abilities (Preparing Animals With Service abilities). His inmate handler, Dennis, has been amazed by how intelligent and brave this little fellow is. Dennis reports, "Banjo is doing GREAT with potty training! And he is really learning his cues!  He responds consistently (9 out of 10 times) to come, sit, down, and his name. And he is at 7 out of 10 for touch."
Banjo is a charmer, and everyone wants to meet him. Dennis and Banjo are working hard to develop polite greetings when Banjo's fans approach. Banjo is already able to usually sit to be greeted! He is such a fun, happy, smart, and adorable pup, and we have high hopes for his future as a hearing dog!