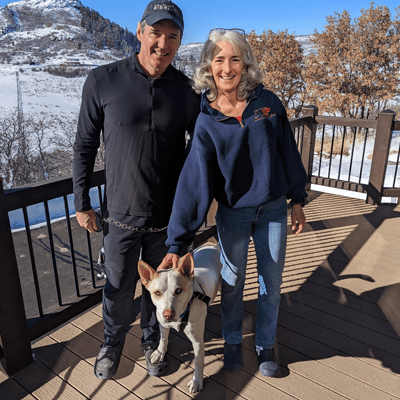 To each and everyone of you who shared his story, passed along his photos and forwarded his bio, we are thrilled to share that Tulok has found his forever family and has made his home in the snowy Colorado Rockies!
At IHDI, our dogs are the core of our program. When we accept a dog into our training program we make a commitment to them to help find their best fit in the world. However, we fully recognize that working as a hearing dog will not be the right fit for every dog we bring into the program. Consequently, we listen when a dog signals to us – as Tulok did – that they'd prefer a "career change" to that of a best friend, which is also an incredibly important job!
Tulok's family says he is the perfect fit and have enjoyed watching his intelligence shine with his quick responses to all his cues; heel, sit, down, and come. They have remarked on how obedient he is and how his past training shines through and makes him an easy and wonderful dog to live with!
His family recently shared ~
"Tulok has been on many big adventures in the snow. He is doing so well. Lots of walks, or course, but he has also been on several snowshoe adventures and has lots of new friends. He is so sweet and such a happy, goofy boy. He is living his best life in the mountains and snow"
IHDI couldn't be more thrilled for adventurous snow loving Tulok!