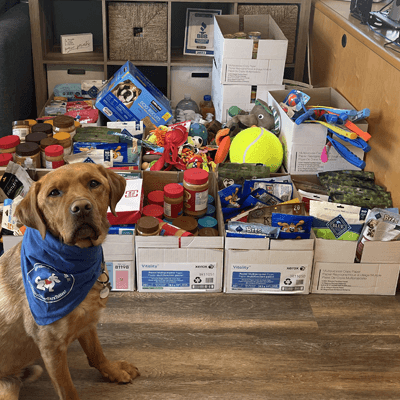 Legacy High School's American Sign Language Classes....leaving a legacy for International Hearing Dog, year after year!
Every school year, the American Sign Language students in Mrs. Bax's class at Legacy conduct a donation drive for our hearing dog program. Earlier this month, the drive wrapped up and the shelves and hearts at IHDI have since been filled to the brim thanks to the generous gifts of support to IHDI. In total, over $2,200 worth of materials were collected and donated to IHDI following this annual event -- in addition to over $400 in monetary donations!

Near the beginning of the school year, IHDI staff meet with the Legacy ASL students and share with them about the Hearing Dog program, volunteer opportunities, our annual partnership, and our shared community within the d/Deaf and hard of hearing world! After learning firsthand about our program, the students kickoff a competition between the classes to raise needed items at IHDI! From printer paper, to training treats, enrichment puzzles and even cat toys - they tackle it all! We are in awe, every year as we stack our cars to the roof with their donations!!
Thank you, Legacy ASL Students & Mrs. Bax!! All of us at IHDI are so grateful to you all!!!