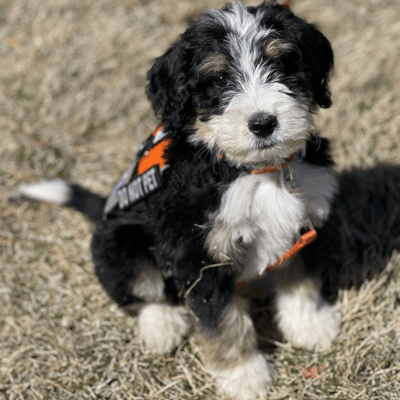 We are thrilled to introduce you to our newest Hearing Dog candidate, Cosmo!
Cosmo is a Bernedoodle and was picked from a large litter of ten, beating out his brothers and sisters to be a Hearing Dog hopeful due to his self assured manner and gutsy attitude. Bernedoodles have the potential to be good Service Dog candidates as they are known to be very trainable, people-pleasing, and adaptable. They are family friendly dogs in addition to being a breed that is compatible with our clients with dog allergies.
Not only did Cosmo orient to each novel sound he met, but he even ran over with gusto to pounce on the source so he could investigate further! He likes to spend time with people, is friendly with dogs, and is willing & interested to try new things. Although he has a lot to learn and a long way to go, these are some of the attributes we like to see in young pups when considering them for a Hearing Service Dog. Cosmo already began his house training and crate training before joining IHDI at eight weeks old and is building on that great foundation. Cosmo is also getting comfortable walking on a leash, exploring his new environment with our PAWS'ABILITIES program, and starting to learn his foundation behaviors. Join us in welcoming Cosmo as he reaches for the stars!