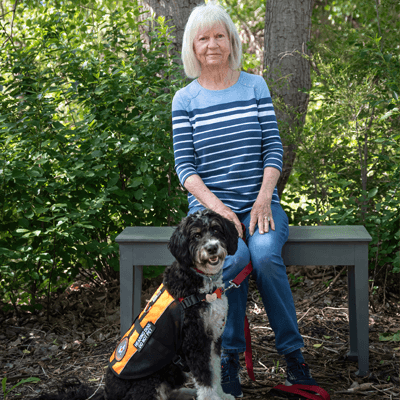 International Hearing Dog is celebrating #InternationalAssistanceDogWeek by introducing Val and Hearing Dog Maggie!
International Assistance Dog Week (IADW) was created to recognize all the devoted, hardworking assistance dogs helping individuals mitigate their disability related limitations.

Val, a cochlear implant user, began her research on hearing service dogs as she sought an option to provide her with safety and peace of mind when she "unplugs" from her cochlear implants. When Val goes without her cochlear implants, for instance, when they are giving her a headache, she is totally deaf and completely unaware of the world around her. Historically, when she was alone overnight at home, Val's adult children would stay with her to ensure her safety. Val knew a hearing service dog would mean that she could feel safe, independent, and comfortable in her home alone, without being dependent on others.

Beginning with virtual meetings and homework from IHDI's client training handbook and videos, Val has been committed to IHDI's lengthy training process from the start! Val's careful preparation helped her make the most of the two weeks she spent at IHDI in team training. Val and Hearing Dog Maggie started their journey together with enthusiasm and a desire to learn. Over the course of several months, they grew together, learned from their mistakes, and became an incredibly bonded and successful Hearing Dog Team. Val put in countless hours of hard work both on her own and with the support of IHDI trainers. Val's husband, John, was also a helpful training assistant on many occasions. Val asked lots of questions and saw any challenges as learning opportunities. On several occasions, Val remarked how surprised she was that Maggie was not only alerting her to sounds, but thoroughly enjoying the work!

Certification testing is "a big deal," but Val knew that she and Maggie were ready. Shortly after learning that they'd successfully achieved certification, Val shared with the IHDI crew, "All of our preparation and Zooming worked!! I just emailed all of my friends over lunch, letting them know that we passed!!"

Val feels a sense of security with Maggie and is able to feel more comfortable when she is home alone. She knows Maggie will alert her to the smoke alarm, the timer in the kitchen, or her cell phone. Val knows that having a hearing service dog takes work and makes sure she is maintaining Maggie's training by practicing numerous times a week as a team!

Maggie accompanies Val to grocery stores and restaurants and, during Team Training, enjoyed a ride with Val on the train to the airport. In all these different situations, Maggie holds her calm demeanor while assisting Val in navigating the world! Maggie is able to maintain her work in various environments which is part of what makes her an excellent hearing service dog. This team's success is attributed in large part to both Val and Maggie's working hard together, but also knowing when to stop and have some fun. Val has been dedicated to this process from the start and has also been steadfast in helping Maggie be the best she can be. They have both grown tremendously in their abilities and confidence, and we look forward to hearing about their next adventure!