2019 Walk, Run & Wag 5K
Thank you for your support for our 8th annual Walk, Run, Wag 5k!
Our 8th annual Walk, Run, & Wag 5k was our best event yet! With over 280+ runners and 20 vendors and food trucks, it was a great day to raise money for Hearing Dogs across the nation! We were able to sponsor one of our hearing dog hopefuls from intake to placement. 
We were also able to get enough bags of food donated to last us a month!
All of our staff, volunteers, and wonderful dogs felt the love this weekend and are so appreciative of the support you were all gave to us! Thank you to our volunteers, participants, vendors and a special thanks to our sponsors: Fragrance Stinks, Cosmo's Dog Bakery, Camp Bow Wow, and Chuck and Don's. We really couldn't thank you all enough!  
Although this was not a timed race, everyone was impressed by the first three human finisher that got "Top Dog" dog tags and our first three dog finishers (with their humans) that won gift baskets specially made by Chuck and Don's!
2019 5k Dog Finishers (with their humans)
Walk, Run & Wag Photos
Check out Uhli Photography images from our 2019 Walk, Run, & Wag.
Here are a few of our favorites!
Full Hearts Are Full Food Shelves!
Thank you to all that donated food to receive a free IHDI dog bandanna! With over 25 dogs in training, you can imagine we are going through food fast, so all our dogs (and staff) greatly appreciate it! Check out our Gift Shop to purchase your own bandanna to support International Hearing Dog.
We want to keep it going so shop our Amazon Wish List for our dog food and we will send you a dog bandanna as a huge Thank You!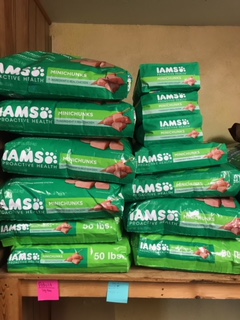 Support Just By Walking Your Dog
Even when our annual 5k is over, you still walk your dog around the block.... Well now you can support International Hearing Dog on your daily morning or afternoon walks by downloading the Walk for a Dog App. 
Once downloaded, simply press "start walking" at the beginning of your walk, the app will track your distance, speed, and the duration during your walk and then is completed by selecting the "stop walking" button. The app itself is completely free, user friendly, & be tracked anywhere! Each walk is then logged in your personal data base, as well as tracked for IHDI's total in "support mileage"!
The more people actively walking with the app, the greater the donation to your selected animal organization! Use the app each time you grab the leash. It's healthy for you, your dog, and supports International Hearing Dog!
Download the app at www.wooftrax.com