Chester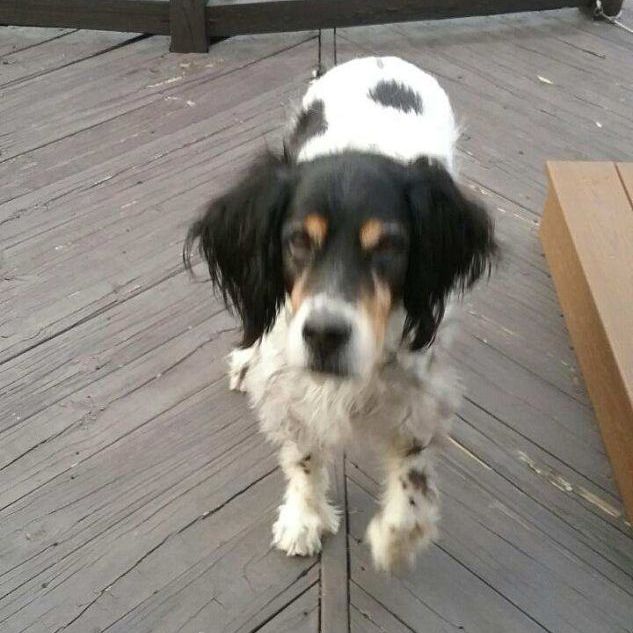 "Woof, woof!" Sitting at my computer one morning working on emails I felt my eardrums vibrate. Glancing over my right shoulder, there he was with his big brown eyes and unmistak​able bark. No, I did not hear it but my eardrums vibrating told me he was there. Chester knew how to use his 'voice' and he was great at alerting me with an eardrum stimulation, a paw shake or scratch on my leg, and more famously, a two-leg slam on my mattress in the mornings to get me out of bed! That was my Chester! He was such a fascinating and beautiful dog with his sweet and silly personality that made me and his many friends smile and laugh. He loved to play tug-of-war and go for long walks, many times for which he got his way because of his "stubborn streak!" "I wanna go this way. No, I wanna go that way!"
I first fell in love with him via a picture after I applied for a new dog following 3 1/2 months of trying to decide if I wanted another dog after the death of my previous hearing dog - Windy. I came to the decision I had to have another dog and Chester entered my life. I took one glance at that picture and knew I wanted Chester.
There are so many memories of Chester that I cannot put them in this tribute but the one thing that stood out was his loyalty to me. He was always looking out for me, always there to steady my bad balance. In August 2010 I was hit by a car in the right leg while walking Chester. He was unharmed but I ended up in ER with a cut on my head. Chester was put into the ambulance with me and we went to the hospital together. When the accident happened, Chester stayed by my side and let me know he was alright by nudging my hand, letting me feel his wet nose.
Chester and I traveled together a lot, mostly by car. He was a great traveler but when we flew he was not too excited. Maybe he didn't like the sounds that come with flying but he was always a gracious flyer. On April 27, 2018 he and I flew home from a long stay out of town. I could tell he was not feeling well a few days before flying home. At both airports he stayed alert until we arrived home safely. At home he let me know something was terribly wrong. He became very restless and went from room to room. I tried to comfort him and let him rest but he later went behind the front door and could not stand or walk. I rushed him to the Vet ER where the verdict came back as paralyzed back legs, the result of a stroke or brain tumor. This beloved service dog must have been in total pain but he got us home safely before he collapsed. I bade a tearful farewell three days later.
Chester will always be in my heart and the memories will always be with me.
Rest in peace my dear boy and I'll see you on the other side of the Cherished Rainbow Bridge.
"Woof, woof!!"
--from Hearing Dog recipient Mark