Sunny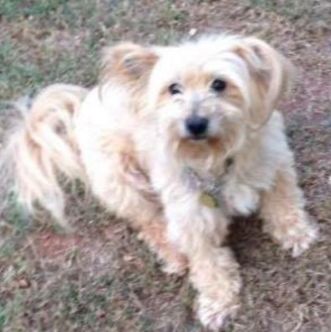 Sunny came to me on November 12, 2004 when Martha Foss, one of the four founders of IHDI brought her to me. We spent the next three months becoming a Hearing Dog team.
Sunny went to college with me everyday on the city bus for next four years. He was loved by Patty Hogg and Sharla Weathers who work Disability Support Service at the University of Central Oklahoma. I remember when I walking on campus one day and a golf cart came up behind me which I didn't hear, so Sunny pushed me off the sidewalk onto the grass. Another time, he pulled me to the side of the road when a bus was coming up behind me. He alerted me to phone ring, door knock/doorbell, and alarm clock, as well as to people and cars coming up behind me. On February 7, 2008, I married the love of my life Danny Davis and Sunny was with us on that day. Sunny also walked across the graduation stage in May 2008 when I received a B.S. in General Studies from UCO.
Later in 2008, Danny was very sick and spent four months at the Oklahoma City VA Medical Center. Sunny was loved by Dorothy Belknap, Sissie Lam and Pat Rowell at Oklahoma City VAMC. On November 12, Danny, Sunny, and were transported to the Richmond, Virginia, Medical Center via Air Ambulance. I remember the flight nurse saying, "we have five human souls and one dog soul." At first, Danny's liver transplant team in Richmond didn't know what to think about Sunny but quickly won the hearts of Danny's transplant coordinators, Katherine Morton and Hochong Giles, and his transplant surgeon, Dr. Robert Fisher, too! Through Sunny, I was able to meet many people who I have remained friends with for years, like my other mother Rose Hobbs and Debbie Hayslett and her family.
When Sunny and go into restaurants together, people say, "I didn't know you had a dog with you!" because he was so quiet and lay there nicely. The people would say he is better behaved than a lot children in restaurants, and I would tell them that he's a well-trained Hearing Dog. In Summer of 2013, I received my first Baha cochlear implant. I heard better with it but I would still miss sounds so Sunny continued to work, especially at night because I am nearly deaf without the implant and hearing aids. Sunny went with me to my first Cochlear Celebration in 2015 in Orlando, Florida. He continue to work for me until Fall of 2017, when Sunny had to fully retire due to age and mobility issues. By February 2018, he could no longer walk and was in pain due to arthritis. He passed away peacefully on March 28, 2018 at 14-and-a-half years old.
Goodbye Sunny, We will miss you! You will forever hold a special place in my heart and all the people that came in contact with us over the years! You are now pain free and can walk and run in heaven.
-- From Hearing Dog recipient Amanda