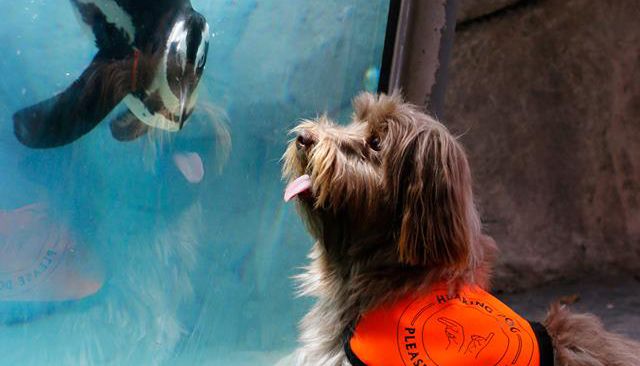 IHDI got some fun publicity early in 2015 from CW33 in Dallas, who picked up a story of a fast friendship between Brownie, a hearing dog trained by IHDI, and Professor Pickles, a penguin at the local zoo.
Here's the story:
They says opposites attract, and that is exactly what has happened at the Dallas Zoo. Professor Pickles, the penguin, and Brownie the dog, have sparked a budding bromance.
"I think they just want to play. I think they are curious about each other and just want to play," Brownie's owner, Erica Bailey said. "Professor Pickles is totally mesmerized by Brownie, and Brownie by him."
The unique friendship started last week when Brownie went to the zoo with his owners. Dogs aren't usually allowed inside the zoo, but Brownie is a special case. He's a service dog for his family; they are all hearing impaired.
"Brownie helps me in more ways than I can even count," Bailey explained. "He gives me the ability to hear my young child if he's up in the middle of the night. He lets me know if there is traffic."
Brownie was with his family when they visited the zoo. But, while they were there, something magical happened. With just one look, Brownie became fast friends with Professor Pickles.
"It's really a form of enrichment for the birds they don`t see that very often," Dallas Zoo penguin keeper Debbie Milligan explained. "Pickles is our youngest male, and I think for him it's playtime."
Turns out, both Brownie and Professor Pickles are originally from the Mile High City. Professor Pickles is from the Denver Zoo and Brownie is from International Hearing Dog, Inc. Maybe, that's the root of their attraction.