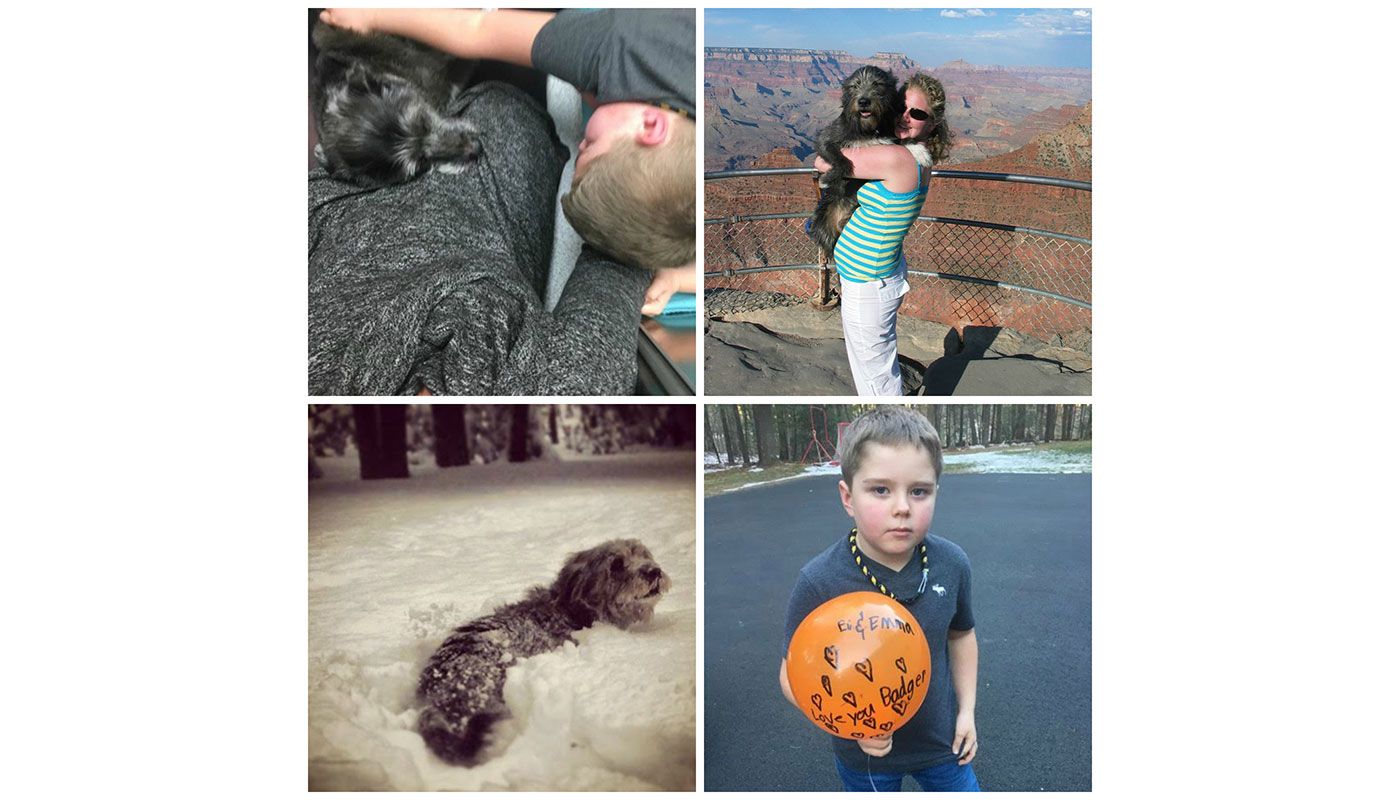 Get some tissues ready, because this is a real tear jerker--but a beautiful story about the life of one of our past ‪Hearing Dogs‬ and his service that he did for his recipient.
Dear IHDI,
Today Eli and I put Badger to rest. He was my service dog for 11.5 years and was Eli's companion for Eli's entire life (Eli is my son who is 8 years old now).
Badger came to me during the beginning of my first year of law school from IHDI fully trained to be a hearing service dog. I remember my shock when I was told he was an Irish Wolfhound mix, wondering how I could be expected to fulfill the requirement of bringing him out in public (thankfully he was not full-size). Instead, he became a constant in the halls of UW Law School, loving those professors who brought a bag of treats for him and the many peers who loved him. He patiently endured hours of exams waiting for a break to go to the bathroom. He sat through 3 years of rigorous law lectures just thrilled to be at my feet. He swam with me mornings in Lake Washington and pretty much went everywhere with me.
When Eli came along he assigned himself the role of Daddy and not only nurtured Eli but protected him.
"He was not only my ears for safety but was my ears to raising Eli safely and always meeting his needs. He would wake me when Eli cried and woke and would sit there gently growling/grumbling as Eli ate and then returned to bed to do it all over again on the two hour shifts."
He went through all my medical "dramas" sensing my need for his companionship and his easy going nature as well as stepping up to work full time around the clock when my cochlear implants failed. Through all of our life dramas, moves, changes, and heartaches, he was evidence of our perseverance and success. His last years in CT were full of walks with my father and keeping my mom company aside from being at my beck and call when I was not at work. He would go to work with me at one of the residential group homes and be a needed calming and supportive presence to the young men who were autistic, some bipolar, and wards of the state during their hard times — an interim job as I worked to get back into my career of Bioethics. He helped me not only at home but also at work on those shifts. He also was Eli's constant in this year's (Sept-present) transition with me in Boston receiving my Bioethics degree and alleviating the sense of loss of my absence although it has been hard to be apart from him but given his age and decline wouldn't have done well in Boston.
Funny enough my hearing dog became hearing impaired and challenged me to work on my patience toward his being unable to hear. He will be missed as not only my service dog but our family dog who everyone depended on to keep me safe and up to task. He is forever owed our gratitude for his service and determination to stay with us as long as he did. I am so grateful that he held on today for me to get there from Boston, so that Eli and I could be with him as he laid in my lap just like he did the first time I met him when he was delivered to me from IHDI and he and Eli stared into each other's eyes and said thank you and goodbye.
"Thank you for the gift of Badger. I cannot imagine life without Badger's presence all these years and I cannot fathom my success as a deaf/cochlear implanted individual and mother without him. Badger will forever be in my heart and mind and so, too, will be IHDI for the gift of independence, security, and presence that Badger gave me."
Sincerely,
Emma & Eli