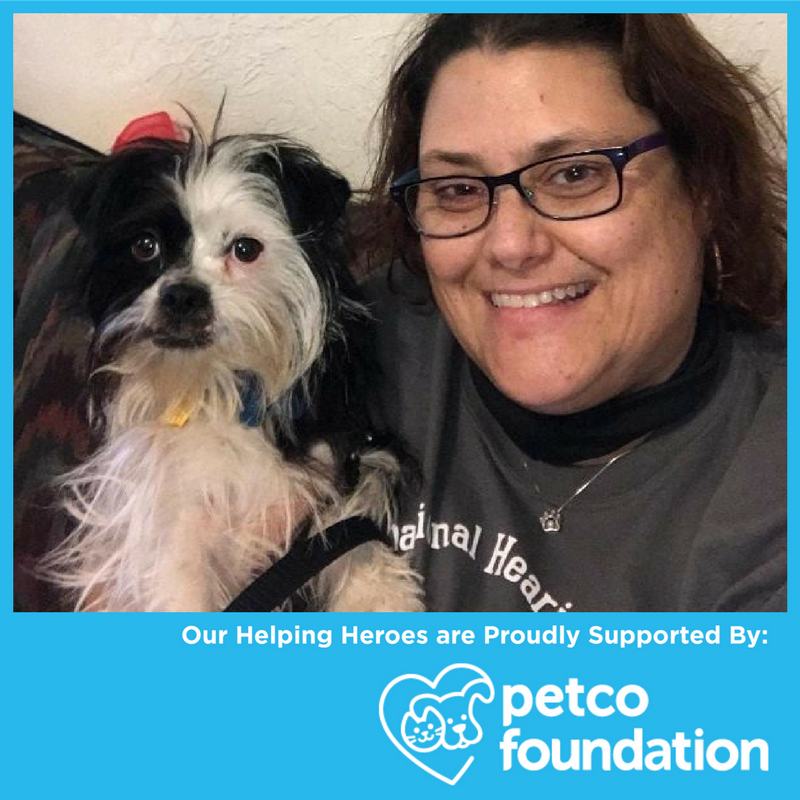 International Hearing Dog, Inc. based just outside of Denver, Colorado, today announced it has been awarded a $50,000 grant investment from the Petco Foundation to support its program training shelter dogs to be service hearing dogs.
International Hearing Dog, Inc. (IHDI) is a nonprofit organization whose mission is to train dogs to assist people who are deaf or hard-of-hearing serving the United States and Canada. Since 1979, International Hearing Dog, Inc. has placed more than 1,300 dogs to serve their master with hearing loss. All dogs trained and placed over IHDI's 39-year history are free of charge to the recipient so that anyone who needs a hearing dog may have one.
This grant was made possible through the Petco Foundation's annual Helping Heroes fundraising campaign, in partnership with Natural Balance Pet Foods. Each October during the campaign, Petco customers are invited to donate online and in Petco stores across the country to support the life-changing work of service, therapy and working animals.
Over the past year applications for a hearing dog have more than tripled, and the Petco Foundation investment will help in the hearing dog training process for five dogs. Future hearing dogs are rescued from shelters in Colorado and New Mexico. It costs over $10,000 to prepare a dog for placement, though the impact in the recipient's life is priceless. One hearing dog recipient shared, "I've been working on improving my quality of life lately and made some appointments with some new doctors to see if there are any new tools to help me with my hearing. I just wanted to let you know you guys giving me hearing dog Harmony has given me the courage I need to seek out help. She makes me more social."
"We were overjoyed to receive this grant honoring the tremendous work hearing dogs perform. This financial support ensures people with hearing loss can have the independence and safety a hearing dog brings," said Valerie Foss-Brugger, Executive Director.
For more information about International Hearing Dog, Inc. or the Petco Foundation, visit www.hearingdog.org or www.petcofoundation.org. Join the conversation on Facebook, Twitter and Instagram or by using the hashtag #HelpingHeroes.
###
About International Hearing Dog, Inc.
More than 20 percent of Americans experience hearing loss, which can be lonely, frustrating, and even dangerous. We believe the most successful way to support social ties, independence, and safety for people who are hearing impaired is through Hearing Dogs. After completion of a four year pilot project in the 1970s with a variety of dog breeds and the deaf community, it was confirmed dogs do make excellent companions and assistants for people with hearing loss. Since that project, International Hearing Dog, Inc. has placed more than 1300 dogs through all 50 United States and Canada and helped start Hearing Dog programs in Norway, Japan, and Australia. Please visit www.hearingdog.org for more information about getting involved, making a donation, or applying for a dog.
About the Petco Foundation
At the Petco Foundation, we believe that every animal deserves to live its best life. Since 1999, we've invested more than $200 million in lifesaving animal welfare work to make that happen. With our more than 4,000 animal welfare partners, we inspire and empower communities to make a difference by investing in adoption and medical care programs, spay and neuter services, pet cancer research, service and therapy animals, and numerous other lifesaving initiatives. Through our Think Adoption First program, we partner with Petco stores and animal welfare organizations across the country to increase pet adoptions. So far, we've helped more than 5.5 million pets find their new loving families, and we're just getting started. Visit petcofoundation.org to learn more about how you can get involved.