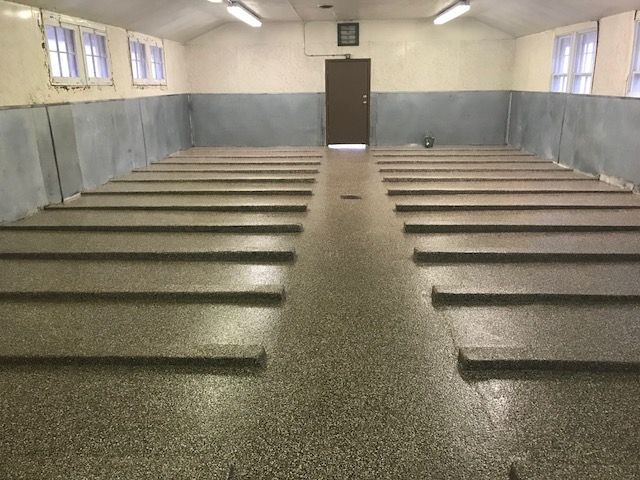 We have some exciting new changes in 2018, some of which have already begun, in our 39 th year of
operation here at Hearing Dog!
In 2014, IHDI secured a 100-year lease with the building owner, the Colorado Division of Wildlife. With
this stability, we have the ability to look at the future of the property and the program. The main building was built in 1948 and is 8,100 square feet. It houses the advanced kennel (18 dog units), offices, event space, training room, grooming and laundry room, and socializing play area. The second building on the property includes socializing space, a wellness and exam room, and the isolation kennel (18 dog units). Both buildings are in need of updates and renovations as we look forward to our next 40 years of operations.
This year we are focused on upgrading the two kennels for the 35-40 pups always in training. Redoing the flooring and repairing rusted chain link fence from the 1970s in the isolation kennel was my top priority and it has already been completed this year! I didn't know how emotional this project would be.
When starting with my mom, Martha, as a kid it was always the same. The old flooring was the same green, cracked kennel flooring from when the American Humane Association was using this building and the same flooring that I set foot on as a kid while my mom, Agnes, Emlynn, and Sandi built the Hearing Dog program. The moment I stepped into the two kennels and saw the new flooring I about cried. I quickly wanted my Mom to come see this tangible evidence that her hard work helped create. I wanted her to know this program of helping dogs and people will last for generations. I just was in awe as this was long overdue and it was so moving.
We could not have made these upgrades that the dogs so desperately needed without grants and donors like you. Thank you! However, we still have many more projects and upgrades to come and we need financial help to make these changes. With your help, we plan to renovate our training area by fixing leaking, cracked windows and installing much-needed insulation. Thank you for helping keep the facility a premier place for dogs to live, grow, and prepare for their careers as Hearing Dogs.
*Picture shows new flooring in the isolation kennel. The fencing between all units was repaired and replaced after flooring complete.