Sign up for our Email Newsletter to stay on top of Upcoming Events
Colorado Avalanche 'Bernie's Day for the Dogs' Fundraiser
Saturday October 26,2019 at the Pepsi Center
International Hearing Dog has partnered with the Colorado Avalanche to provide discounted tickets to our supporters while donating $5 back per ticket to the training and placement of hearing dogs! Join us on October 26th at 7pm against the Anaheim Ducks. 
Use this link to buy tickets and make sure to stop by our booth at the game to show your support: Avalanche.KSETickets.com/InternationalHearingDog
Use promo code AVSINTHD when prompted after clicking 'find tickets'
*** If the link is not working for you, this website does not work well with Internet Explorer. Just change your browser and you should be good to go!
We will have a custom engraving machine with 'Colorado Avalanche' dog tags and other designs at our booth!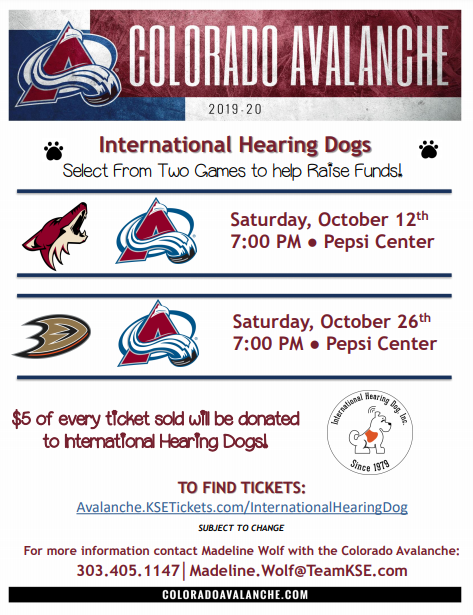 Colorado Gives Day
Donate on December 10th, 2019 through ColoradoGives.org/IHDI/overview and have your dollar go further to help International Hearing Dog!
Check out our page for more information on what Colorado Gives Day is and when you can start planning your donation to IHDI!
'Cookies for the Canines' Fundraiser
Thursday December 19th, 2019 at My Make Studios in the Edgewater Public Market
Exact address to be announced as they are moving to their new location beginning of December.
Join International Hearing Dog at our "Cookie for the Canines" fundraiser in partnership with My Make Studios at their new Sloan's Lake studio location on Thursday, December 19th to create the most "fetch" holiday cookies in town!

Join My Make Studio instructor, Mikaila Riehm for this Holiday Cookie Class! Create your own holiday masterpieces that look professional! All ages welcome, children under the age of 12 must be accompanied by an adult (no additional charge). Reservations to the class are required. 25% of the class proceeds will be benefiting International Hearing Dog, so don't miss out on a great night out and helping an amazing local group!
Follow the below link to get a sneak peak at the cookies we will be creating & reserve your spot in class today! We can't wait to see you there!
Check out My Make Studios website