Sign up for our Email Newsletter to stay on top of Upcoming Events
'Dine for the Dogs' Chipotle Fundraiser
Tuesday September 10, 2019 4pm-8pm
6570 S Yosemite St Unit D Greenwood Village, CO 80111
Are you a Chipotle lover and want to help out a good cause? Bring in the attached flyer, show it on your smartphone, or tell the cashier you're supporting IHDI to make sure that 33% of the proceeds will be donated back to our life changing mission!
Sign up for reminders on our 'Dine for the Dogs' Facebook Event by marking yourself as attending!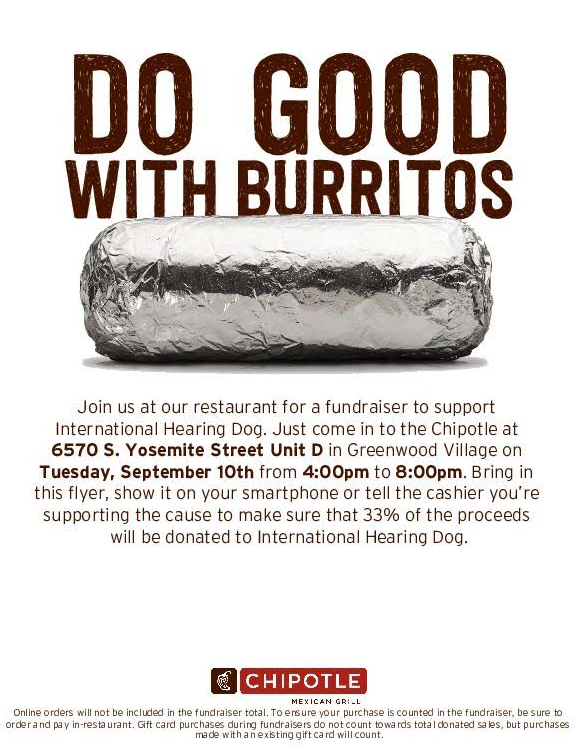 40th Anniversary
Due to some recent staffing changes, IHDI has decided to cancel our 40th anniversary celebration in order to focus on day to day activities and continue to serve our recipients and dogs with the utmost care and attention. Feel free to email us with any questions at info@hearingdog.org. 
IHDI Booth at Safari Deaf Awareness Day at the Denver Zoo
Sunday September 22, 2019 1pm to 5pm at the Denver Zoo
International Hearing Dog, Inc will have a booth at the Denver Zoo's event Safari Deaf Awareness Day. Reserve your tickets by September 13, 2019 at relaycolorado.com/zoo. 
Tickets can not be obtained for free at the gate on the day of the event. Check out the attached flyer for more information and vendors that will be at the event.
**Tickets while supplies last
*Up to four tickets per family. It is for customers who are Deaf/Hard of Hearing or have a family member who is Deaf/Hard of Hearing. Additional tickets can be purchased for $12 per person.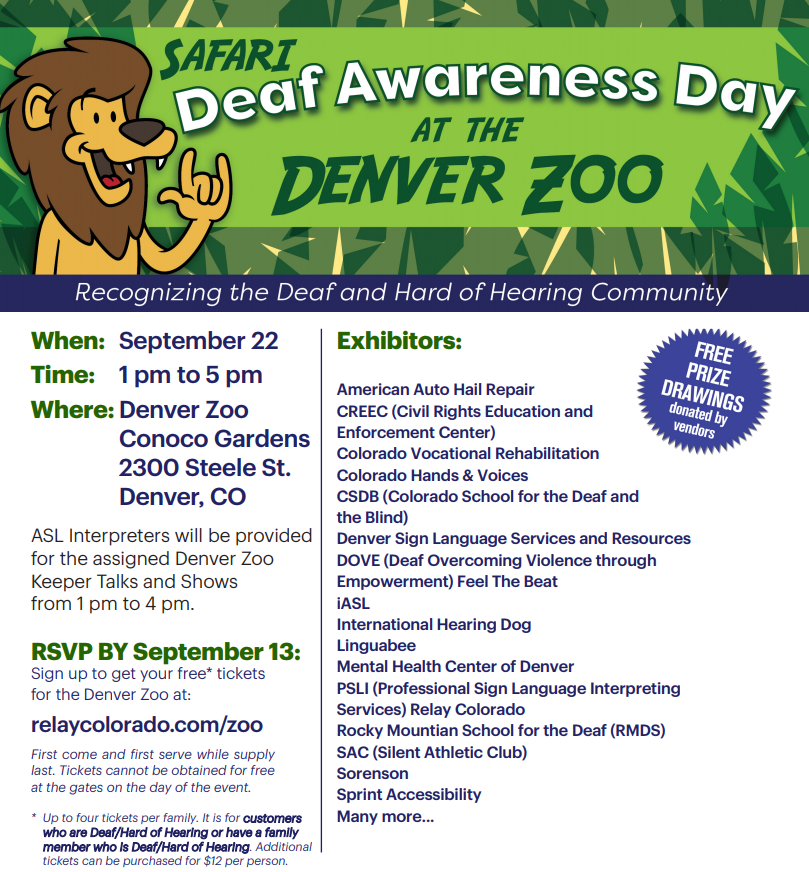 Colorado Avalanche Fundraiser
Saturday October 12, 2019 and Saturday October 26,2019 at the Pepsi Center
International Hearing Dog has partnered with the Colorado Avalanche to provide discounted tickets to our supporters while donating $5 back per ticket to the training and placement of hearing dogs! Join us on October 12th at 7pm against the Arizona Coyotes and on October 26th at 7pm against the Anaheim Ducks. 
Use this link to buy tickets and make sure to stop by our booth at the games show your support: Avalanche.KSETickets.com/InternationalHearingDog