Corportate Partners & Community Sponsors are a force for a greater good in the lives of our dogs and clients!
When you partner or sponsor with IHDI, you promote positive change for dogs and d/Deaf and hard of hearing individuals while linking your company, service club, self, family, or group to a committed and trusted nonprofit that's changing lives and communities across the country.We believe that partnering or sponsoring with companies, service clubs, groups, and individuals that share our passion for IDHI's mission provides a mutually beneficial opportunity for both parties. IHDI relies on the philanthropic support of our local, regional, and national community partnerships and sponsorships. In exchange, IHDI extends benefits towards marketing, philanthropy, mission outreach and/or community service interests. We also acknowledge that each partner/sponsor has different interests, audiences, and recognition channels and we are prepared to craft provided benefits to suit such purposes.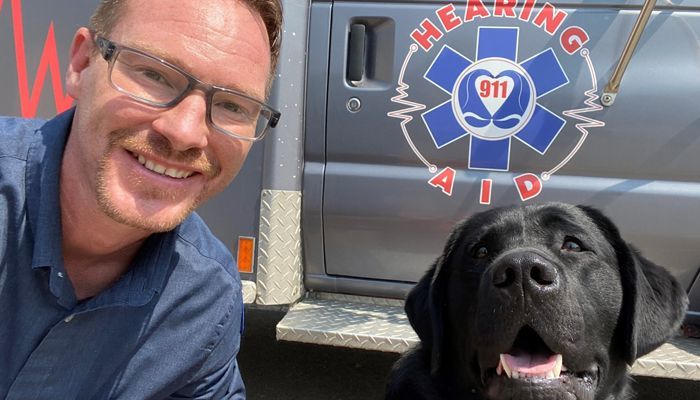 IHDI offers three partner/sponsor opportunities:
Ultimutt – Best fit for corporate alliance partnerships that want to encourage employee engagement and community support.
Service Club – Great choice for member groups looking for a different way to get involved at a community level.
Muttley Crew – Ideal opportunity for an individuals, families, or friend groups wanting to experience giving back in a different way and actively support IHDI hearing dogs in training.
POTENTIAL PARTNERSHIP BENEFITS*
Naming rights to the dog
 
 Participate in the formal Passing of the Leash and Graduation Ceremony where the dog and handler graduate as a hearing dog team
 
 Sponsorship Plaque with name and logo on the dog's kennel for all visitors to see
 
 Acknowledgment in all press releases and media stories for Passing of the Leash and Graduation Ceremony
 
Tour and Demonstration at IHDI with a Meet and Greet with the sponsored dog
 
Recognition and logo placement on the IHDI website, both on the dog profile page and the sponsors page
 
Recognition on Facebook with a post regarding the Passing of the Leash Ceremony
 
Recognition and logo placement in two IHDI e-newsletters
*Benefits are based on the level of support
Each partner and sponsor opportunity includes a Foster Project element that allows the partner or sponsor to foster one dog. The minimum commitment is for weekend fostering, and the most significant commitment is fostering the dog through its entire 8-month training period. Typically, it would be a team of four individual, all of who must be screened and trained by IHDI, providing Fostering in their home. The time commitment is limited with a team – as little as one weekend per month – while the sense of involvement and ownership of this life-changing work is broad and impactful for all parties. This is a powerful team building and community building experience for a corporation, service club, group, family or friends.
Partners and sponsors are a critical force fro a greater good in the lives of our dogs and clients!