Bailey & Alta: A Perfect Pairing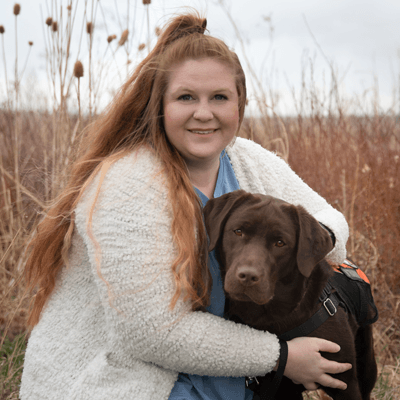 Bailey, a bubbly and upbeat preschool teacher from Missouri, has Usher's Syndrome, an inherited condition characterized by progressive hearing and vision loss. Bailey hears very little, but with devoted Hearing Dog Alta as her constant shadow, she doesn't miss a timer beep, smoke alarm, or phone ring at home, nor a bell, knock, or siren in the classroom. Bailey and Alta don't miss a beat.
As an unfaltering team, they take on every new challenge, from riding the light rail to preschool antics. What is next for this team? Welcoming a baby to the family. Knowing Alta will be Bailey's ears when the baby cries gives Bailey a sense of peace and security in her new role as a mom.
"After passing the Public Access Test...I can truly realize what a difference having Alta will be in my life - at home and in public...I'm happy to show Alta off so that others can see...hearing dogs are out there keeping people like me safe and feeling confident in every setting."   — Bailey