Ruth & Grayson: Dream Team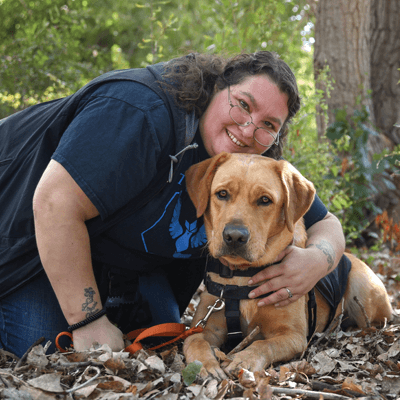 Driven by a strong independent spirit and the support of her family, Ruth, deaf since young adulthood, sought out an IHDI hearing dog. She wished to be partnered with a hearing dog to alert her to everyday sounds, knowing that being notified of such sounds would open up her world. Hearing Dog Grayson is Ruth's wish fulfilled.
The visibility of a hearing service dog in public has opened many doors for Ruth. Ruth took on a job working at a local store, allowing her to be more involved with her community and connecting for the first time with folks she's lived near for years. Ruth and Grayson even ventured on a trip to her best friend's wedding, including a flight and hotel stay, where Ruth toasted to new beginnings, and Grayson was a perfect guest!
"Grayson has improved my life greatly. I am so thankful to have him. I can't imagine ever being without him now...Having him alert me [to sounds] is amazing."  — Ruth