The PAWS'abilities to Come...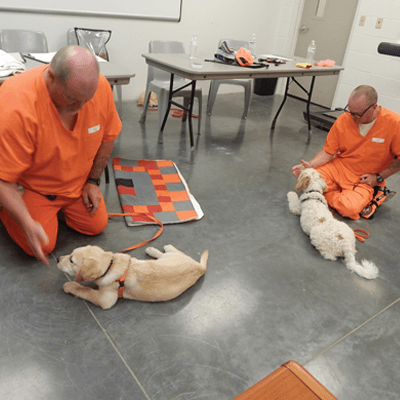 2022 brought a new and exciting addition to IHDI's programming — Prison Puppy Raiser program. Known as PAWS'abilities (Preparing Animals With Service abilities), it is built upon a strategic partnership with the Wyoming Department of Correction Canine Training Program at the Wyoming Medium Security Correctional Institute in Torrington.
PAWS'abilities is a contemporary twist on IHDI's rich tradition of team-centered training. Inmates serving as Master Handers welcome puppies around two months old to live with and be trained by them for ten months or more. During this time, Master Handlers support each pup in every stage of their development, working on socialization, good manners, obedience cues, and basic sound alert training.
IHDI is with the PAWS'abilities team and Weekend Puppy Raisers (WPRs) every step. Who are WPRs? WPRs are volunteers who integrate a PAWS'abilities puppy into their weekend activities; introducing them to sights, sounds, and experiences; working on house manners; and more.
Show the PAWS'abilities puppies your support!
Follow their journey on IHDI's social media or sign up for the Hearing Dog Herald (enewsletter).