Amplify your giving through your workplace
Employee Workplace Giving & Matching Gift Programs
IHDI proudly engages with workplace giving campaigns that connect employee giving with enhancing the quality of life for our d/Deaf and hard of hearing community members. Participating in an employee giving campaign or company matching gift program is an artful way to implement ease of giving, grow your impact via year-round sustained giving and multiply your gift.
Many employers offer a matching gift program that double or even triples charitable contributions made by their employees, retirees, and/or spouses of employees. In addition, employers may also offer matching gifts in recognition of employees' volunteer hours. That means you may be able to turn your volunteer hours into funds for IHDI! Check with the appropriate department at your company to find out if a match program is offered.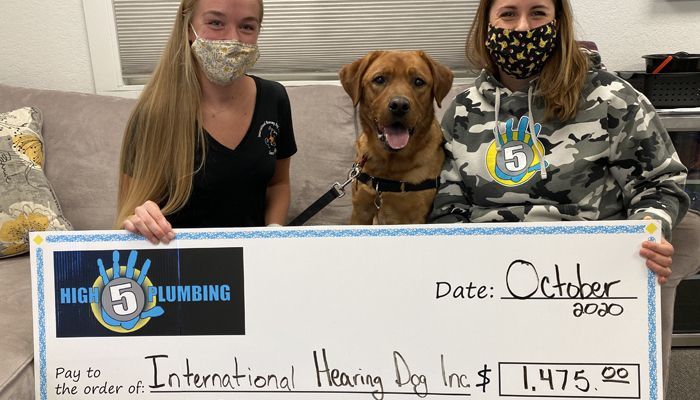 How does Employee Workplace Giving campaign work?
Workplace giving programs allow employees to make regular donations to eligible charities through their companies' payroll system. Employees may contribute a set amount per paycheck or make a one-time gift.
You determine the charities you choose to support and pledge a tax-deductible donation amount. Your pledged donation amount is automatically deducted from payroll, offering a convenient means of giving—and the potential to make an even greater impact by year-round sustained giving without losing the tax benefits of charitable giving.
Many workplaces (from private companies to military organizations and federal, state and city governments) coordinate charitable giving during a specified open enrollment period.
How to sign up for workplace giving?
City and state employees: Local municipality, city, and state employees can give to IHDI by selecting International Hearing Dog, Inc by name and Tax Identification #84-0779444. 
 
Private company employees: Many employees can give to the charity of their choice through their workplace giving campaign. If you don't see IHDI listed in your company's campaign, simply type or write in "International Hearing Dog, Inc., Tax Identification #84-0779444, Address: 5901 East 89th Avenue Henderson, CO 80640" within the form provided by your employer.
How to promote IHDI as a Workplace Giving/Company Match option with your employer?
Ask your employer to feature IHDI during a Workplace Giving Campaign company event
 
Ask your employer to feature IHDI as a charity choice during the annual employee charitable giving campaign season. Companies often like to empower employees by offering them the option to support their chosen nonprofits—causes their employees are passionate about.