Give Back Giving Guide 2022
This Holiday season, you can shop and support both the International Hearing Dog and small businesses through our Give Back Gift Guide. From specialty treats to custom pet portraits and crafted coffee that fuels a greater purpose to an inventive assortment of dog toys and more the guide has gifts you'll love to give. By shopping our direct links or entering a specific code at checkout, these generous businesses will donate a portion of purchases back to IHDI and our hearing service dogs through the entire month of December!
Shop small local businesses for unique gifts and support IHDI this Holiday season! Participating businesses: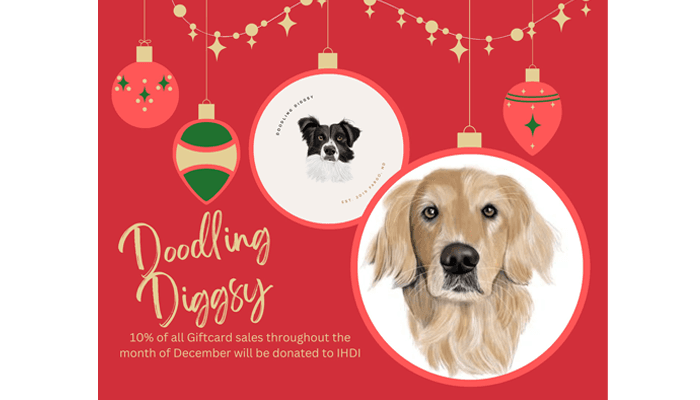 Doodling Diggsy
Aim to bring joy to others & awareness to adopting pets through digital pet illustrations inspired by Macy's misfit rescue, Diggsy.  
Get your (favorite) furry family member doodled! Macy creates one-of-a-kind, hand drawn, custom digital doodles.Each custom dog portraits starts with your favorite photo. Macy then freehand sketches your furry friend on her iPad! Diggs "assists" with dog portraits by snuggling and snoring.
Need a gift in a hurry? Doodling Diggsy has gift cards too. 10% of all gift card sales through December will be donated back to IHDI.
Visit Doodling Diggsy to gift a custom pet portrait!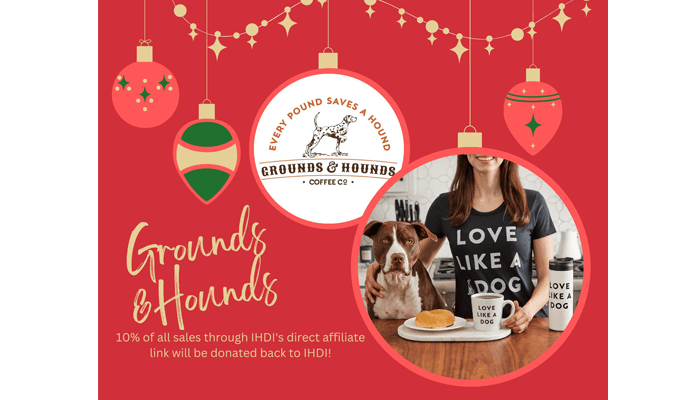 Grounds & Hounds - Every Ground Saves a Hound
To our four-legged friends, each day is a new adventure, full of possibilities and excitement. Grounds & Hounds Coffee Co. was born out of our passion to give back to the animals who selflessly provide us with so much happiness. We hope every coffee sipping, rescue loving, pet parent gives our coffee a try and joins us in changing the world one cup and one pup at a time!
Order Grounds & Hounds Coffee through IHDI's affiliate link and 10% is given back to IHDI!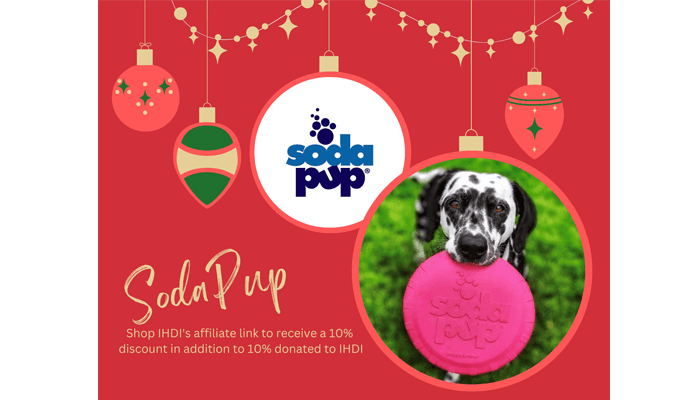 SodaPup
SodaPup specializes in American-made dog toys for power chewers, located here in Longmont CO. From lick mats, chew toys, treat dispensers, frisbees, tug toys and more--all made with durable and safe materials for your furry friend.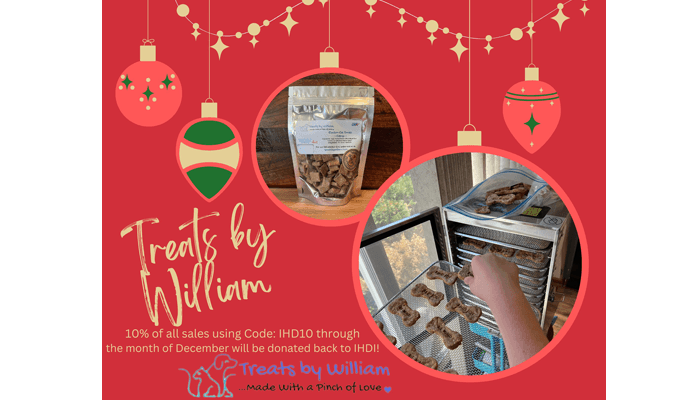 Treats by William
William has Autism & this venture started as a way to work on and teach fine motor skills as well as future job skills. It has now grown into a business with the mission of making homemade, human grade, nutritious, no preservatives dog and cat treats while advocating for Autism and the special needs community. Creating job skill training to enhance future success in independence.
Visit Treats By William – Made With Pinch Of Love and enter Code: IHD10.10% of sales using code IHD10 will be donated back to IHDI through December.