How IHDI Selects Hearing Dog Hopefuls
IHDI invests heavily in the selection of the dogs that enter our training program as hearing dog hopefuls. Our dogs come from shelters, rescues, collaborating service dog programs, breeders, and even individuals. Our general selection guidelines are as follows:
Dogs approximately 10 months to 2 years in age so that the dog is mature enough to be trained and placed within 7-10 months and provide years of service as a working hearing dog
 
Dogs weighing between 15 to 65 lb
 
Dogs who are friendly, confident, curious, problem solvers who are eager to work and love to take initiative
 
Dogs who like to investigate new things and are not fearful of new sounds is paramount
 
Dogs that are treat motivated and people-oriented
 
Dogs that have a history (if known) of getting along well with: other dogs, adults and children, cats and don't have a high prey drive for small animals, squirrels, or birds
 
Many breeds can do hearing work. IHDI always considers the individual dog; however, poodles, terriers, spaniels, labs, and mixes thereof are generally good candidates.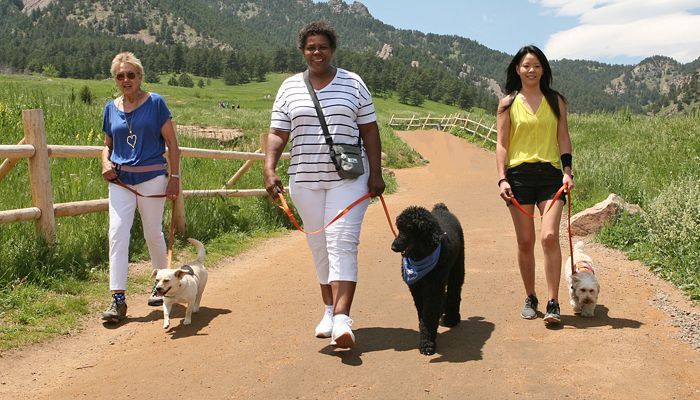 It really is all about the personality! Overall, dogs that enjoy spending time with people, love learning new things, are curious about the world around them, and have the confidence to learn to be comfortable in public (i.e., seeing sliding doors, shopping carts, riding on trains, hearing unexpected noises) are ideal candidates for IHDI's hearing dog program.
Our trainers do extensive behavior tests when meeting dogs to ensure they have the characteristics we are looking for in any hearing dog hopeful. Once selected, each dog receives a thorough medical examination to ensure they are healthy to take on the rigors of training. This includes a wellness exam, blood work, vaccinations, and spay or neuter surgery if necessary. If they have any treatable medical issues, we treat them right away. Once they are confirmed healthy, they are promoted to begin a seven to 10-month training program that includes sound response, general obedience, and socialization.