Hearing Dog Team Janet & Henson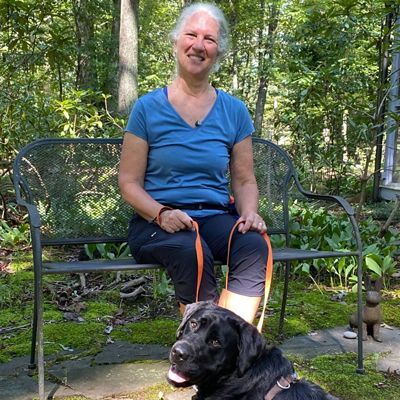 As a skilled companion, Henson will alert Janet to sounds within the home such as the telephone, smoke alarm, an individual at the door and a name call to assist Janet in living a safe and independent life. Janet and Henson had met only virtually until Jack, an IHDI trainer, traveled to Janet's home for team training. They had an instant connection and Henson began looking to Janet for direction almost immediately!
Janet is retired and Henson will now get to spend his days accompanying her as she practices yoga, creates pottery, and hikes through the wilderness of Shenandoah National Park.  Henson will enjoy this peaceful world while giving Janet peace of mind by alerting her to sounds so she can more fully explore and participate in her community.
Our clients constantly tell us how grateful they are to IHDI and how much their lives have improved since working with us and being teamed with their dog. And we appreciate that so much! However, truth be told, our lives are so impacted and enriched by our clients as well. Janet is such a beautiful example of how humbled and honored we all are as staff to work with such remarkable folks. From our first encounter Janet and her husband imprinted a lifelong impact on our program and staff, Janet is so deeply committed to becoming the best handler possible and supporting and continuing Henson's training as a Hearing Dog TEAM.
"You all have made my life safer, more confident and more joyful by bringing Henson into my quiet world" - Janet
"Henson has been the most incredible fit in my life. I matched [with Henson] at about the same time my audiogram shows that I was now up to 80% hearing loss.
One of the most amazing things that he does is that we run or walk everyday and on rural roads 3-5 miles, Henson is pretty much 100% on alerting me to vehicle traffic. When a car is coming behind me, he looks over his right shoulder. And when a car is coming toward me, he pulls off on the left side.
My family is just so grateful to you all, and to him, because when I go out now, they know I'm safer and I know I'm safer, and I just have a level of trust even being on a rural property that if somebody who's not supposed to be here is here, he lets me know, even if somebody's' supposed to be here, he's still tells me they are at the door. It's just the confidence and I am just really grateful for this trusting, loving [skilled] companion."