Hearing Dog Team Katie & Jagger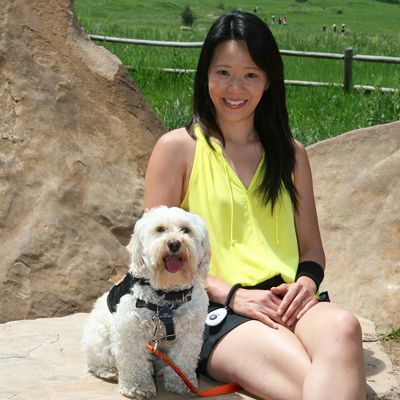 Katie is late-deafened with progressive bilateral hearing loss. As such, she has tried to navigate the grey zones of being hard of hearing in a hearing world. Over the years, as her hearing loss progressed, her social confidence decreased as her anxiety increased. She found herself scolded in grocery aisles for not stepping aside, missing her name called in professional and private settings, almost being hit by a bicyclist, or being shoved aside on a hiking path because she did not hear people approach from behind.
Because of the disheartening and frightening experiences of navigating the world as a deaf person, Katie's life had become increasingly isolated. Katie applied to IHDI for a hearing dog to help her regain her independence. She sought a partner to provide a sense of security to empower her to go out more often, aid in her interactions, and provide peace of mind that she will not miss the fire alarm or any other such emergencies when alone.

Enter Jagger, a small dog with a mighty heart and an aim to please spirit. Jagger was rescued from a grim life on the streets and aced his sound evaluation with astonishing ease, confidence, and accuracy. Under IHDI's tutelage, he transformed into a steadfast hearing dog and a perfect match for Katie. His talent for alerts has helped Katie's sense of safety soar, and his reassuring presence positively fosters re-engagement.
As Jagger wears a bright orange hearing dog vest, Katie's invisible disability of deafness becomes visible and aids her in building bridges with her community. Now, when encountering Katie and Jagger, most people make efforts to communicate with patience and respect. And Jagger, with his small stature but impressively big role, provides a common connection point bringing together family, old friends, and new acquaintances.
Katie and Jagger have developed a powerful bond. "I love him! I cannot imagine life without him", exclaims Katie. The renewed confidence and engagement Katie has gained as a Hearing Dog Team, with Jagger by her side, has definitely allowed Katie to re-engage in life and simply enjoy life more fully.