Hearing Dog Team Linda & Curly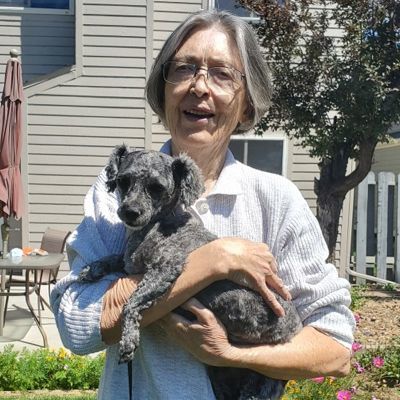 Linda is an example of the need IHDI is encountering daily. Linda is profoundly deaf. She lost her second IHDI hearing dog when he died of cancer. Losing any dog can be devastating, but losing a service dog - a dog you are with 24 hours a day/seven days a week; a dog you heavily rely on to function in your everyday life; a dog you fully trust to help keep you safe - is a tremendous, life-changing loss. Linda was affected by the loss of her hearing dog emotionally, psychologically, and logistically. Compounding her grief was the profound isolation imposed by the pandemic.
 
Individuals who are deaf struggle with a sense of isolation even in the best of times. Like so many of our clients, Linda communicates by American Sign Language (ASL); however, a small percentage of people globally can communicate via ASL. Therefore, like so many deaf and hard of hearing individuals, Linda relies heavily on her ability to read lips. Unfortunately, in these days of COVID and mandatory mask-wearing, lip reading is not an option.
Consequently, communicating in public has become virtually impossible, thus compounding Linda's sense of isolation. Moreover, without her hearing dog partner, Linda found herself frightened to go out in public alone and fearful of being at home alone, especially at night - frightened she would not hear a smoke alarm, emergency siren, or an intruder. As a result, Linda felt alone and vulnerable at every juncture and sank quickly into a deep depression.
Matching Linda with her new hearing dog, Curly has revolutionized Linda's life. Their bond was immediate. Curly responded quickly to a hearing dog's role for Linda and demonstrated sound alerts from the very start. Thriving in the hearing dog role, Curly provided Linda with enormous reassurance and began to help her build back her confidence. The companionship that Curly provides has broken Linda free from the heavy cloud of isolation. The two are a remarkable team. And, because Curly wears the orange IHDI vest in public, it alerts others that Linda is deaf and cannot communicate with them through a mask. Linda told us that her world is so bright now that she has Curly.