Hearing Dog Team Linda & PI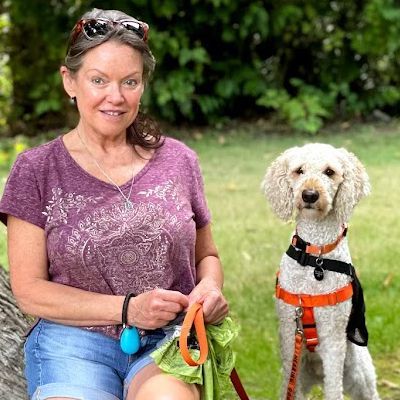 Linda's hearing loss has been progressive since birth, and she is now profoundly deaf. Linda has had several companion dogs (pets), but Pi is her first-ever hearing dog. Linda's journey has been worth the wait, as she's beyond thrilled to be teamed with Pi.
Pi accompanies Linda to the office daily. During their work days, Pi lets Linda know when a coworker is approaching and alerts her when someone calls her name. Pi is ever ready to alert Linda to other important sounds at the office, including the sound of the smoke alarm. As a service dog who has passed the Assistance Dogs International Public Access Test, Pi is trained to rest quietly beside Linda in her office when he is not working, but she is!
Linda is a walking and hiking enthusiast. Pi accompanies Linda on daily walks and during office break strolls, as well as on her long weekend hikes. With Pi at her side, Linda feels more secure and independent during these various outings. The wet and muddy conditions of Washington state ensure that the doggie wash station in Linda's apartment building is being put to good use for Pi!
As Linda lives alone, Pi has quickly become Linda's steadfast companion. Pi gives Linda an increased sense of confidence, knowing that he'll alert her when someone is at the door or in the event of an alarm. Pi also notifies Linda when her phone is ringing and directs her to the phone's location.
IHDI Trainers Sarah and Jack agree that Linda and Pi are a fantastic team with a strong work ethic and great personality fit. Both Trainers remark that Linda has been impressed from day one with Pi's intelligence and that she's been equally enamored by Pi's playful character.  
In Linda's words: "Pi is a great dog. He is wonderful company. I have met several people as a result of being out with Pi. I am so happy to have him and to have the opportunity to give care to him. He has truly enhanced my life by just being with me. I am so grateful that I found IHDI and have your support. I would totally recommend IHDI to anyone needing a Hearing Dog. I could not be more pleased with this experience."