Hearing Dog Team Sue & Artie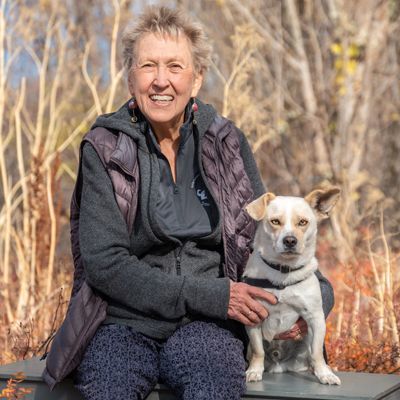 The timing that brought Sue and Artie together was especially significant. Sue had recently lost her husband and was living on her own with no hearing person to help alert for the first time. "We had been married 57 years. He was my rock. He was my best friend, my true love, my travel partner, and my ears. I felt overwhelmed with grief, very alone, and unsafe." Sue shares.
Sue is deaf and got a cochlear implant over 15 years ago. However, even with the cochlear, Sue often cannot hear or localize sounds. Artie is a tough little guy with an enormous heart, whom IHDI rescued from a shelter and provided extensive specialized training culminating in Artie becoming a top-notch hearing dog.
Before Artie, Sue's son had been so worried that something would happen in the night - a fire, an intruder - and Sue would not be able to hear it. Now, with Artie, he feels confident about his mom's safety again. "My son said when Artie came, it was the first night he slept since his Dad died."
Together, Sue and Artie are a formidable team. They both exude a remarkable joy for life and a spirit of resiliency that helps them take on and overcome challenges they encounter.
"Artie has changed my life in so many ways. First and foremost, he has increased my independence and sense of safety by assisting me with sound identification and localization. Even with the cochlear, I don't always hear doorbells, knocking, or phones, so Artie now alerts. At night, when the cochlear is off, he alerts me to burglar and fire alarms. When walking or hiking, he alerts me to sounds behind me.
Secondly, Artie is a grief therapist and antidepressant. He has such a loving personality that I have felt less alone and depressed . . . Artie helps me stay in the present moment. I can focus on him . . . and I soon feel better.
Also, Artie is a connector. When I shop, exercise, and go out with friends, Artie is a connector to others. People engage with and connect with me as a person."