Hearing Team Wanda & Beauty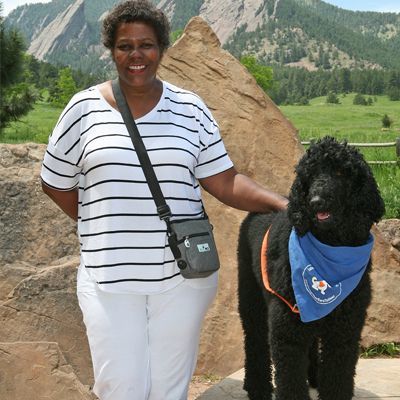 Wanda, a retired patrol police officer, experienced profound hearing loss in 2006 due to Ramsay Hunt Syndrome. With hearing aids no longer an option, Wanda was relying on lip reading and microphone sound amplification. Unfortunately, her hearing loss progression made it more and more challenging, left her feeling unsafe, and restricted her independence.
"I wanted a hearing dog because I now live by myself, and I can't hear anything at all when I'm in bed. And I can't hear people coming to the door. I wanted a dog to alert me in these situations so that I can feel safe alone in my home. I also wanted a hearing dog to feel safe when I'm out and about. I can't hear anyone walk up behind me so I wouldn't take walks, or shop, or run an errand alone because I would get so startled."
After nearly three years, Wanda was thrilled to be teamed with Beauty, her IHDI trained hearing dog service partner, who alerts Wanda to the ring of her cell phone and safety sounds, such as the smoke alarm and door knock. With Beauty by her side, Wanda is taking back her independence and sense of security.
"Now that I have Beauty, I can go for walks. With Beauty, I can go anywhere and everywhere. In the past, I wouldn't go out alone, and if someone couldn't come with me I'd just stay home. Now I can get up and go. Beauty has given me back my independence. I don't have to depend on others to let me know what is going on in my environment because Beauty lets me know.
Beauty has greatly improved my independence. I have no fear of an unwanted person coming near my home or myself without being aware. I never miss a doorbell ring or phone call. I feel safe in my home and when I'm out in public."
Wanda and Beauty are a commanding team. Wanda, an engaging storyteller with a wonderful sense of humor, is captivating. Beauty enchants with her grace, manners, and elegance. Wanda notes that "People notice right away how incredibly well-trained Beauty is. She's an angel at all times in public, following all her commands."
With Beauty, Wanda now feels safe living alone. She shares, "You guys are great! You all did an awesome job training Beauty! Thank You!"